Tis the season for pumpkin beers! If you've been in a grocery/liquor/beer store in the past few weeks you've noticed it's that time of year where breweries all across the country are putting their seasonal pumpkin beers up for sale. I've had numerous friends ask me about pumpkin beers lately, so I decided that in honor of the season (and Eric's upcoming Pumpkinhead article in HorrorHound), I would review 13 pumpkin beers between now and Halloween.
If you missed it last week, 5 pumpkinheads is good, and 1 is bad. This week, I'm sipping on Jack's Pumpkin Spice from Michelob and Wolaver's Will Stevens Pumpkin Ale.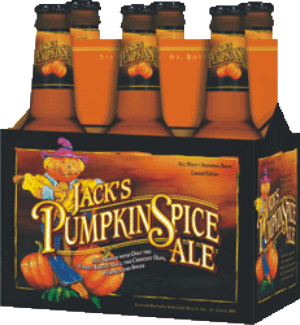 Jack's Pumpkin Spice Ale (Michelob)
They say: Brewed with Golden Delicious pumpkins and seasonal spices to produce a balanced, truly flavorful taste.
I say: To say I'm not a fan of Michelob beers is an understatement. Even their psuedo craft beers leave a lot to be desired. However, Jack's Pumpkin Spice Ale is somewhat of an exception. It's a pretty straightforward spicy pumpkin ale. The only thing that I found that set this particular brew apart is its lasting spicy aftertaste, which may be a turnoff for some. Overall, its not as bleh as you would imagine a beer from Michelob would be.
Rating




Wolaver's Will Stevens Pumpkin Ale.
They say: "The subtle flavor of pumpkin and mild notes of spice enhance this golden amber ale..."
I say: Yeesh! I'm not sure if I got an assed batch or what but this is exceedingly unpleasant. I'm puzzled because I've read lots of good to great reviews about this beer and I'm just not getting it. It's both extremely spicy and sour, which is a flavor I don't think should ever come from something with pumpkin in it. "Certified Organic" in this case, does not mean "Cerified Good."
Rating


Kind of a bummer of a week pumpkin beer wise, but go get yourself a Southern Tier Pumking and drink your sorrows away!