Tis the season for pumpkin beers! If you've been in a grocery/liquor/beer store in the past few weeks you've noticed it's that time of year where breweries all across the country are putting their seasonal pumpkin beers up for sale. I've had numerous friends ask me about pumpkin beers lately, so I decided that in honor of the season (and Eric's upcoming Pumpkinhead article in HorrorHound), I would review 13 pumpkin beers between now and Halloween. First, the scale, in pumpkinheads (obviously).

x5
A worthy brew for any season. Find and drink immediately!

x4
A respectable concoction. More than worth a shot once a year.

x3
Not a beer to turn down, but not one to sell your first born for either

x2
Pass this by and drink a GOOD beer while eating pumpkin seeds.

x1
Drink some Ipecac and save yourself the trouble.
This week, I take a look at Dogfish Head Punkin Ale and Brooklyn Brewery's Post Road Pumpkin Ale.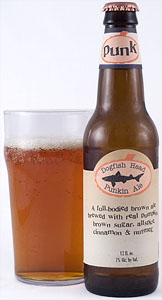 Dogfish Head Punkin Ale
They say: "A full bodied brown ale brewed with real pumpkin, brown sugar, allspice, cinnamon & nutmeg."
I say: In this case, "brewed with" doesn't necessarily mean "tastes like." There are very faint hints of spice, barely any taste of pumpkin, and a very malty, beer-y taste. It's not a terrible beer, but also not a very impressive pumpkin beer.
Rating





Post Road Pumpkin Ale
They say: "...a delicious rendition of this traditional American classic."
I say: A good beer? Sure. Classic? Not so much. "Post Road" has a strong vegetable pumpkin taste, but not the "pumpkin pie" taste that most pumpkin beers are noted for. The spices in this beer are present and somewhat pleasant. Make sure to drink this cold, because it starts to get strongly assy near the end.
Rating