Tis the season for pumpkin beers! If you've been in a grocery/liquor/beer store in the past few weeks you've noticed it's that time of year where breweries all across the country are putting their seasonal pumpkin beers up for sale. I've had numerous friends ask me about pumpkin beers lately, so I decided that in honor of the season (and Eric's upcoming Pumpkinhead article in HorrorHound), I would review 13 pumpkin beers between now and Halloween.
If you missed it last week, 5 pumpkinheads is good, and 1 is bad. This week, I'm sippin on the Shipyard Pumpkinhead Ale, and Saranac Pumpkin Ale.

Shipyard Pumpkinhead Ale
They say: "A crisp and refreshing wheat ale with delightful aromatics and subtle spiced flavor. Hints of cinnamon and nutmeg make this fall brew a flavor sensation"
I say: There's nothing more American than pumpkin and less American than subtlety, and in that sense, "Pumpkinhead" is an American classic. That being said this beer tastes something like the paste from Little Debbie's Pumpkin Delights and getting smacked in the face with a pillowcase full of nutmeg. Good for a sip, but a whole bottle of it may be a one way ticket to Barftown, unless you are partial to Smirnoff Ice, in which case, this is your pumpkin brew!
Rating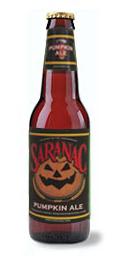 Saranac Pumpkinhead Ale
They say: "Brewed with Pumpkin, Cinnamon, Allspice, Cloves, Ginger and Vanilla. Look for a full-body and amber color. We're sure you'll enjoy this special brew!"
I say: I do enjoy this special brew! The brewery's description of this beer is spot on. I found it to be highly drinkable, tasty, and just flavorful enough to deserve the silly pumpkin that adorns its label. Unlike many pumpkin beers, its light enough for multiple bottles in a sitting. Go ahead and grab one!
Rating





I'll be back next week w/ Southern Tier Pumking, Blue Moon Harvest Moon Pumpkin Ale, and Smuttynose Pumpkin Ale.