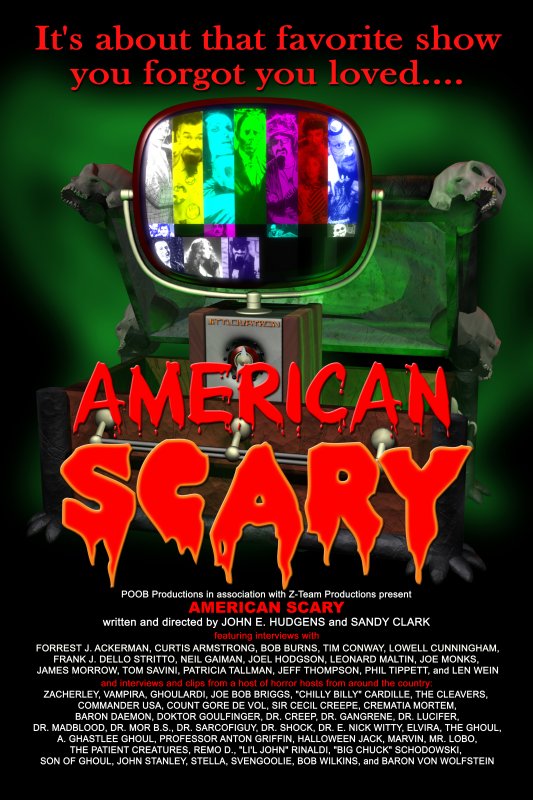 Netflix Streaming: American Scary
Though reluctant to let you Mac users into our sheltered world of PC's and Xbox 360's, the Netflix streaming servers continues to bolster its available libraries, which equates to easy horror fixes for us addicts!
Last week we showcased the classic Phantasm that had recently shown up on the service. This week, we've decided to treat you to something more...educational! That's right, this week we're taking a look at the new horror documentary, American Scary.
Now, I don't mean this as an 'age' joke, but its a sad fact; many of today's younger generations simply aren't familiar with the concept of horror hosts. It's not a matter neglect, it's unfortunately a matter of there simply isn't a market for the 'Late Night Creature Feature' in today's world. With digital cable and hundreds of channels showing you various ways to cook food or to play golf at any given moment, it's easy to see why.
"American Scary" is a documentary dedicated to these late night scare masters of old, and it's a must see for anybody that calls themselves a horror fan. The filmmakers take a pretty exhaustive and in-depth look at the world of scare-mongering, covering everybody from as far back as Vampira, to the modern day marvels such as Penny Dreadful, who has turned to the worlds of public access television and the internet to keep the dream alive. Oh, and fear not; Elvira and the twins make an appearance as well!
So once again, we here at Bloody Good Horror have partnered up with Netflix, so for those of you that still haven't joined the club, now's your chance to do so, and help us out while you're at it! The streaming package comes with the base subscription fee which makes it a no brainer, especially for those of you with an Xbox 360! (I suppose you Mac people deserve a shot too.) Each week we'll showcase another new scary addition to the Netflix streaming package, so stay tuned to see what else might tickle your fancy!