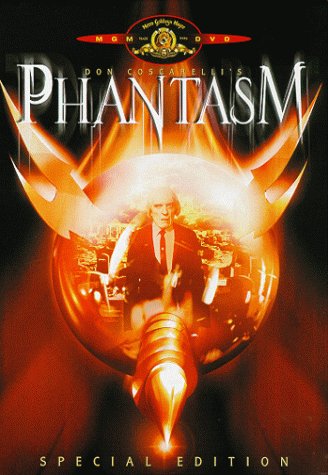 Netflix Streaming: Phantasm
Now that even Mac Elitists like myself can gloriously stream movies to our computers straight from Netflix.com, with no extra charge above the base plan fee, the service has become invaluable to me as a horror fan. While there tends to be a lack of quality new releases, you'd be shocked how many classic, and not-so-classic horror and scifi films have been uploaded to be watched instantly. The quality is very high and as long as you've got a decent connection, the actual streaming is pretty flawless.
As we've talked about on the BGH Podcast for a few months now, we have a partnership with Netflix. If you sign up through us, a significant donation is made to our cause. It's great for both parties really, because you get a great service and you help us keep up with the costs of running the site in the process.
So... every week one of us will be posting about a Netflix find. Sometimes they will be podcast related films, while others will just be weird or obscure gems we've found streaming live from the service. This week, it's Don Coscarelli's 1979 classic "Phantasm". We will be reviewing it next week on the Podcast, and if you don't own it here's your chance to catch up before the show.
Already a member? Start streaming "Phantasm" now
Not a member yet? Sign up through BGH