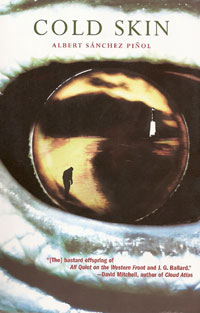 David Slade Adapts Wild Sounding "Cold Skin"
We reported on the news recently that David Slade (director, "30 Days of Night") would be taking on the third film in the Twilight franchise. That, understandably, had horror fans a little miffed, especially considering he made specific quotes while promoting "30 Days" indicating that he was not a fan of the romantic type of vampires. Presumably, a big fat check changed his mind on that one. And hey, who can blame him.
Today's story is good news though for those concerned that we had lost slade to the "dark side" so to speak, as it's announced that as soon as he's finished with "Eclipse" he'll be directing an adaptation of the Alberg Sanchez Pinol novel (Spanish) "Cold Skin". I was going to report this in the news this morning, but the synopsis is so bat-shit crazy I wanted to make sure you guys could read the entire thing here. So, drumroll please...
An unnamed European of unspecified nationality is hired to spend an unspecified mid-20th-century year logging wind conditions on a tiny Antarctic island. Anticipating solitude, the bookish young man soon discovers that he has a neighbor—the pathologically reclusive Gruner—and that each night, the island is overrun by humanoid killer amphibians. He and brutish Gruner—who has tamed a "toad" of his own—join forces, killing monsters by night and fornicating with Gruner's pet by day. Inspired by the creature's ability to laugh and cry—to say nothing of her perky breasts, knack for housework and wordless submissiveness—the narrator begins to think of the cold-blooded creatures as human.
Um... whoa. That sounds, really really fucked up, and awesome. It should be really interesting how balls-to-the-wall he goes with the adaptation. First though, we have to suffer through all the David Slade/Twilight related stories. I guess this will have to be what keeps us going for now. We can do it, horror fans!