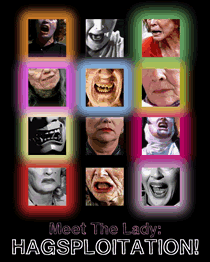 Celebrate Hagsploitation Tomrrrow Night in NYC
I've never heard the term Hagsploitation before today but I think I might like it. Basically it's in reference to those mean old birds we love to hate in some of our favorite horror films, and tomorrow night at the 92Y Tribeca Screening Room they'll finally get the praise they deserve, or demand if you will.
The event will feature clips from 9 different movies as well as an appearance by none other then Lorna Raver. She'll be discussing her role in "Drag Me To Hell" and hopefully explain what it was like to see herself on screen vomiting formaldehyde.
As an added bonus the good people at Black Phoenix Alchemy Lab will be giving away a free bottle of their limited-edition fragrance "The Hag" to everyone who attends. So you can smell like an old women even if you're not. I think that's a selling point?
For more info and to order tickets check out the 92YTribeca website.