Box Office Special - International Delights
'Tis the season. For horror, that is. With All Hallows Eve a scant three weeks away, ghosts and ghouls are starting to take their place in the spotlight of popular culture. Horror is also creeping back into the theater, starting this week with "Quarantine." And, with a second place finish, the first-person zombie flick marked a successful return to the box office for horror. The film's opening total of $14.2 isn't mind-blowing, but it's good enough for the 5th best horror opening of the year, and it also represents the week's top per screen performance ($5,770) of films showing on more than 100 screens. "Quarantine," which was the fourth horror picture to open at #1 or #2, also keeps the streak alive of horror films at #1 or #2 earning back their production budget in the opening weekend.
With this new horror release, I've also taken the opportunity to update the
Horrors of 2008 spreadsheet. While it will be several weeks before we get an idea of where "Quarantine" will shake out in the grand scheme, we are finally starting to get a good look at how some films from earlier in 2008 are performing overseas. It's tough to make sweeping statements because there's no standard for how or where films are rolled out in international territories, but nevertheless, we can see that some movies have been producing well.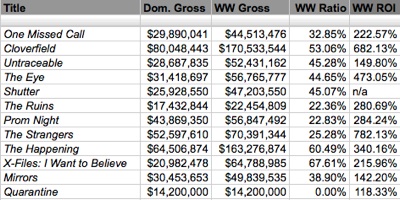 Three films, "Untraceable," "X-Files," and "Mirrors," made less than their production budget at the domestic box office, but manged to make some modest returns once they opened internationally. Another three films, "X-Files" again, along with "Cloverfield" and "The Happening," have made more than 50% of their total return in foreign markets, "The Happening" and "X-Files" are over 60%. It's also interesting to see that films that are themselves remakes of foreign horror movies, ("Shutter," "The Eye," "Mirrors," etc.) have found success overseas. (That's not to say that these remakes are doing well in their originals' home country, but simply that their status as remakes doesn't preclude international success.) Overall, the best news may be that many of these horror films haven't even spread to all regions, and could continue to see profits roll in.
Next week, we'll get a horror breather before the big "Saw" push starts up on October 24th. Instead, your local cineplex should be showing the gaming adaptation "Max Payne," "Sex Drive," "The Secret Life of Bees," and, if you're lucky, two comedies that will be opening in limited release: Barry Levinson's "What Just Happened" and Oliver Stone's "W." Things may stack up nicely for "Quarantine" to rake in some more dough, as folks will likely be in the mood for some horror. It better make the most of the next week and a half though, as "Saw V," no matter how good or bad it ends up being, will likely consume most of the horror enthusiasm going forward.