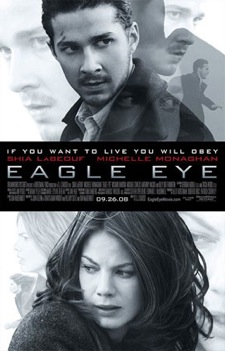 Box Office Special - You Will Obey Rampant Advertising
The box office flirted with a $100 million total again this week, but sits (as of Sunday night) at $98. Maybe not other-worldly, but it's good enough for the 3rd highest total for the 39th weekend of the year. Leading the way was "Eagle Eye," the second film from DJ "Disturbia" Caruso. If you haven't heard of this one, you clearly haven't been exposed to any form of media in the last three weeks. From the looks of it, "Eagle Eye" has more in common with flashier blockbuster type films than it does with some of the smaller fare that we've seen at the box office the last couple of weekends. Paramount, the studio behind the film, was likely hoping that dropping this into theaters alongside "Nights in Rodanthe" and Spike Lee's "Miracle at St. Anna" would lead to a bigger draw and a bigger return. To the extent that the film placed number one, that plan worked. But an opening of $29 million for a film as highly promoted, not to mention as expensive ($80 million production budget), as "Eagle Eye," isn't necessarily a big success.
In second this week was "Nights in Rodanthe." There's really nothing to say about this movie, particularly on a horror site. "Lakeview Terrace," last week's number one fell to number three and made an additional $7 million. It's $25 million total is already 20% over the films' production budget.
While the top three films get most of the attention, this week it's the number four film that's really the story. Opening on less than 1,000 screens, "Fireproof," a Christian hug-fest starring Kirk Cameron (yes, he's still alive), made over $6 million. From what I can gather from the preview, Kirk plays a fireman who's having problems in his marriage. He decides to get a divorce, but his father convinces him to wait 40 days, saying that he'll send him a book to read. The book, of course, is the bible, and only through reading it does Kirk learn that to be a good husband you can't be a humongous douche all the time. I'm a little unclear exactly which parts of the bible were instructive, but from what I hear, it's all pretty good.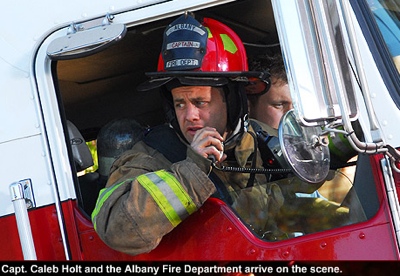 One has trouble fathoming how exactly "Fireproof" made as much money as it did. The preview makes the film seem several rungs lower than your typical made for Lifetime movie, and with a budget of a half million dollars, it's not that surprising. It also might be quite literally the most preachy film you'll find in the theater this year. Christian culture however, can be big business, so don't be surprised to see more like this coming down the pipeline.
While it's not a foregone conclusion, "Eagle Eye" will definitely have a chance to hold on to its number one spot. Next week sees several new openings, but nothing that's likely to go huge. The biggest film next week, as embarrassing as it is to say, may be "Beverly Hills Chihuahua." It's success will say a great deal about the average level of intelligence of US film goers, not to mention the tolerance of parents to put up with literal dog shit. Other than that, there's a number of smaller films, "Blindness," "Nick and Norah's Infinite Playlist," "How to Lose Friends and Alienate People," and "Flash of Genius." There's also "The Express," a feel-good, corny race-relations drama. All of these films will likely draw audiences (in that they won't utterly bomb), but it's going to be a flooded market, and in that situation, "Eagle Eye" might be best positioned to bring in some more dollars. I wouldn't be surprised if next weekend's number one has half the revenue of this week's, which would be pretty underwhelming.