Box Office Special - Woof!
I'm going to keep it short and sweet this weekend. You see, "Beverly Hills Chihuahua" won the weekend, and quite handily. And that's the kind of thing that makes me feel sad. Sad in my soul.
With $29 million "BHC" — as those in the know call it — beat out last week's number one, "Eagle Eye," which accounted for $17 million. The latter film's $54 million in two weeks still accounts for less than 3/4 of the film's production budget. "BHC," barring some outrageous legal bills incurred through animal mistreatment (we can only pray) or mental anguish for viewers, should be well on its way to becoming a nice little score for Disney and Co.
At number three was the new film "Nick and Norah's Infinite Playlist." I can't really tell you what's this film is about, but it stars Michael Cera and the daughter from "The 40-Year-Old Virgin," and the ads are sort of making me feel like an old person, which isn't cool. At $12 million, "Nick and Norah" was a modest success — though it's $5,000 per screen couldn't hold a candle to the Chihuahua's $9,000 per. Last week's number two, "Nights in Rodanthe" fell to number four, and was followed by the up-and-comer, "Appaloosa." Having rolled out to over 1,000 screens for the first time, "Appaloosa" brought in around $5,000 per in its third full weekend. It will be interesting to see if it can hang around, or if this new level of relative success will lead to a bigger rollout.
A couple of smaller political films made their way to theaters this week: the conservative "comedy" "An American Carol" and the Bill Maher/Larry Charles doc, "Religulous." The former opened on over 1,600 screens and made a paltry $2,300 per, while the latter opened on 500 screens and made nearly $7,000 per. Maybe the conservative base was still busying patronizing "Fireproof" because that film narrowly beat out both Maher and "Carol," though it took in significantly less per screen than Maher's religion hit-piece.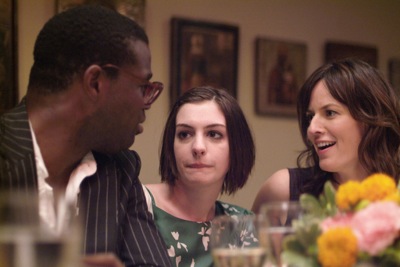 One other film of note is Jonathan Demme's new family drama, "Rachel Getting Married." Horror fans will know Demme as the director of "The Silence of the Lambs." This film however, is about as far from Hannibal and Clarice as one can get. It must have managed to strike a few chords though because while it only opened on nine screens, it's $33,000 per screen average was about as good as one could hope a film would perform.
Next weekend we might see some of these films go bigger, and it will be interesting to see how things go from here with many of these smaller films. Next week we'll also get our first look at Ridley "Alien" Scott's latest, "Body of Lies," which stars Russell Crow and Leonardo Di Caprio, and should obviously be awesome. The real story, as we all know, will be "Quarantine," which will stake it's claim to the pre-Halloween horror crown. See you back here next Sunday for what should be some more enlightening conversation, you know, once the Chihuahua stank has been washed from the box office.