Box Office Special - Bringing the Payne
Most of us have gotten pretty comfortable with the video game to movie adaptation. Sure, there's still some hurdles to overcome, but by and large directors are starting to figure out how to turn small-screen button-mashing into cinema that is at least watchable if not good. So while it seems that "Max Payne," the most recent in the long line of video game film adaptations, may not be particularly good, it was good enough to take home the top spot at the box office this weekend with a comfortable margin. At $17.6 million, "Payne" isn't a smash — indeed it may struggle to match even "Hitman's" mediocre domestic gross — but it should be well on its way to besting its production budget. And like other video game adaptations before it, "Payne" will likely go on to have a decent ride overseas (last year's "Hitman" did 60% of its total gross outside the U.S.).
"Beverly Hills Chihuahua," heretofore known as America's shame, continued a strong run by finishing in 2nd place this weekend. Meanwhile, "The Secret Life of Bees" came in at number 3 at $10.5 million, or just a million shy of "BHC." At number four was Oliver Stone's presidential biopic "W." which had a strong showing with over $10 million on a mid-size roll-out (2030 screens).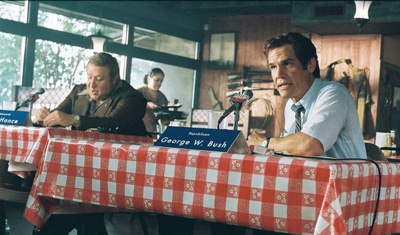 Jumping down to number 7 we find last week's second place film: "Quarantine." The weekend gross drop off was a mildly unsightly 57%, but the bottom line is really the only thing that matter here. With its first two weekends in the books, "Quarantine" has now more than doubled its reported production budget of $12 million. It's not inconceivable that it could finish its domestic run somewhere in the neighborhood of $35 million — a nice Halloween bump wouldn't hurt, but there's going to be some stiff competition coming.
That competition will be in the shape of of "Saw V." Say what you will about the "Saw" series, but they have been reliably strong performers at the box office each year. The first film, which may have snuck up on some fans, managed $18 million in its opening weekend. The next three each averaged $31+ million, almost like clock-work. Even more astounding is when you consider that these totals were achieved with extremely modest production budgets: $1.2 million for "Saw," $4 million for "Saw II," just north of $10 million for "Saw III," and a similar number for "Saw IV." This is even as the IMDB scrore for each film has gone from 7.7 to 6.2. It's because of all this that the question of whether the next "Saw" film will be any good doesn't really matter to me anymore. If "V" brings in another $30 million, there really will be no room to knock them anymore. For a number of reasons, these films are connecting with audiences year in and year out. Granted these box office totals may not be in the "Spider Man," mega-blockbuster realm, but consider this: "Saw IV's" worldwide total — the smallest of the four films at $140 million — represents around a 13x return on the investment of producers, whereas the first "Spider Man" — the most efficient of the three films — only brought in a 6x return.
Even if the "V" is a reprehensible piece of garbage, the business of "Saw" is just too alluring to ignore. Expect some interesting discussion around the Horrors of 2008 spreadsheet (updated with this week's totals) in this space next week. And stay tuned for episode 47 of the podcast, where some healthy "Saw" debate should arise.