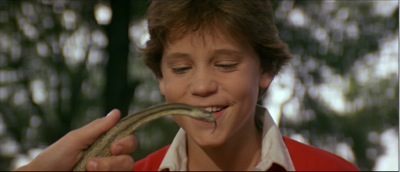 Adolescent Wet Dreams Do Come True
This is part 4 in the series, The Decade Long Stephen King Cinematic Orgy. For more, see Part 1, with an introduction, Part 2, and Part 3. Spoilers ahoy.
Though there was no larger name in the world of publishing, Stephen King had really just begun to dip his toe into the cinematic waters in 1985 when "Silver Bullet," the 11th King film to appear in nine years, hit theaters. By that time, the Decade Long Stephen King Cinematic Orgy was almost at an end, but virtually all the films to that point had been adapted and directed by someone other than the writer himself. That first started to change in 1982, two yeas after some acrimony erupted when Stanley Kubrick's film version of "The Shining" failed to live up to King's expectations. In '82, King co-wrote and lent his name to "Creepshow," a film not actually related to any prior King work, but very much heading down a path that would pass through a handful of films before culminating in King's directorial debut, "Maximum Overdrive."
That whole story will have to wait for another day, though. Instead, I want to look at the film that directly preceded King's epic fail, and shows signs of where King would seriously err only a year later. Based on King's novella "Cycle of the Werewolf," "Silver Bullet" tells the story of a pre-pubescent parapalegic boy and his battle against a werewolf that has taken up residence in his small town. The wikipedia entries on the book and the film discuss the former's interesting development history and the latter's major divergences from the source material, so I won't dwell on them too much here.
Rather, what I found interesting about "Silver Bullet," the third film on which King himself acted as a screenwriter, is that it is in many ways a more undiluted King film. Themes that can be found in other films from this time are here more obvious and heavy-handed. As I wrote in my discussion of "Cujo," King films often succeed specifically because they contain the depth of character that King puts into his novels, only filtered through other artists points of view. Here, King supplies his own filter, and what results is pre-adolescent angst and sexual innuendo on a level not typically seen in a rated-R film.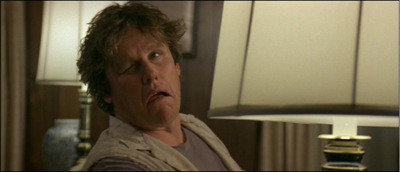 To tell the story of "Silver Bullet," one really must begin with the cast. Remember, this was 1985, a time somehow simpler and yet more complex than our own. To convey the range of emotion found in King's screenplay, the folks behind "Silver Bullet" felt it necessary to turn to two of the decade's grandest cinematic icons: Gary Busey and Corey Haim. The presence of both these actors makes the film almost impossible to watch today, but if you can step back, it's easy to see how Haim was McCulley Caulkin before Caulkin was Caulkin. In "Silver Bullet," Haim plays the central character, an 11-year-old boy in a wheel chair. Busey, who let's be honest, was always a lunatic, plays the drunk-uncle. He's a fun loving guy, who also loves his nephew.
Like virtually all King stories, the familial relationships speak volumes here. Haim's Marty is a constant source of worry for his parents, and they in turn place that worry on the shoulder's of Marty's older sister Jane. The siblings have a close, but rocky relationship—in that way that 11- and 13-year-olds will have a rocky relationship. Both of their bodies are changing, and they're not the only ones. Their sleepy little town has become the site of numerous graphic murders, perpetrated by what the papers are calling a monster, but what we learn from the outset is a werewolf. Luckily, Uncle Busey is always around to get boozy and make sure the kids survive puberty and the werewolf.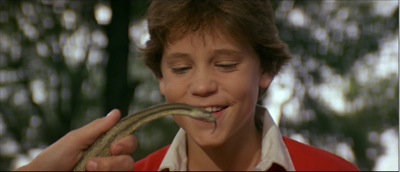 This shot from an early scene really sets the table for the level of sexual discourse we can expect throughout the film. Here, Marty's friend shows Marty "his snake," and suggests they use it to scare Marty's sister Jane. At first, clutching the snake in his hands, Marty likes the idea, but he wavers. His friend goes through with it anyway, and the resulting mess leaves Marty feeling guilty. Wouldn't you feel guilty if you helped scare your own sister with a snake? If you haven't caught on yet, the snake represents something else. Do you know what it is? It's a penis. Get it.
Though the subtext of awakening sexuality isn't burdensome, that's about the level of subtlety that we get when it does come up. Through some of the most ill-advised voice over ever put to film (the perfect example of King's uncertainty as a screenwriter) Jane and Marty's relationship is given some nuance, but the exploration never really rises above this snake sequence.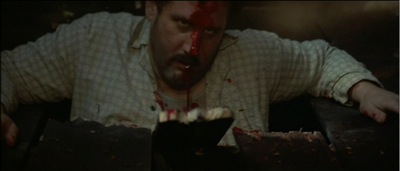 At the same time that Marty and Jane are butting heads over phallic symbols, some folks are dying. There's a woman who's become pregnant out of wedlock and is killed as she attempts suicide. Then a drunk and abusive father, seen above, is torn up after his weekly wrestling viewing is interrupted.
Werewolf films, as the BGH crew discussed in a recent podcast, are few and far between, and I'd posit that one of the reasons is the high level of difficulty that arises with the split nature of the narrative. On one hand there's a monster tearing up the neighborhood, but on the other is a person who is (typically, involuntarily) turning into a wolf. The tension in the first situation relies some on the second situation remaining unclear, but as long as the wolf remains in shadow, there's a whole element of the plot that is going untapped.
Films like "An American Werewolf in London," "Ginger Snaps," or even the classic "Cat People" get around this by wedding the two plot lines. The werewolf becomes a main character and thus the destruction and the personal turmoil of the changing are experienced by one person, or by a group of people close to the event. In other films like "Dog Soldiers," the second part of the equation is abandoned all together for a more straight up monster arc. And yet others, like the Jack Nicholson vehicle "Wolf" choose to focus on the personal experience of lycanthropy. "Silver Bullet" begins in the "Dog Soldiers" realm, but as we'll see, gets bogged down as it moves forward.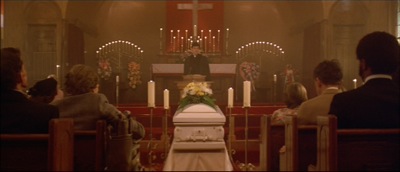 One of the problems with setting your werewolf narrative in a small town is that there aren't a whole lot of options when it comes to naming an antagonist. King's choice is an interesting one, but it's telegraphed very early on in the film. Shots like the one above provide simple visual evidence for the killer's identity, which undercuts much of the suspense. At the outset, King's screenplay establishes Jane's voice-over as the perspective through which we view all the action, but unfortunately the film shows us far more than Jane could ever possibly have known.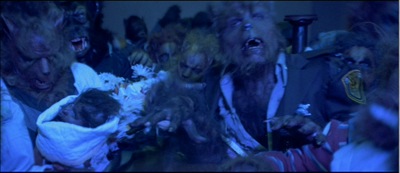 Reverend Lowe's dream sequence, seen above, is the most egregious violation of King's framing decision. Despite the fact that Jane narrates the action, "Silver Bullet" features a dream sequence wherein the Reverend watches his flock transform into wolves. It's a nice scene, done with real creature effects, but it's completely implausible and only serves to confuse the narrative's focus. Up to this point, "Silver Bullet" has been a film about a boy's experience of a werewolf tragedy in his town. But here we're placed into the perspective of the offender, and even asked to sympathize with him. He's haunted at night by his wolf-iness! What a tragedy!
Sarcasm aside, King could very well have gone fully over to this side, showing us the Reverend's daily struggles with his inner demons; linking his lycanthropy to his vow of celibacy (whether he's the kind of reverend who can marry is inconsequential here since he's never shown engaging with a woman); or pursuing further the question of the werewolf's victim's sinfulness, which I'll come to in a minute. Any of these would have been nice, and would have also made the voice over impossible. But instead, King pulls back and leaves us with Marty, Jane and Uncle Busey.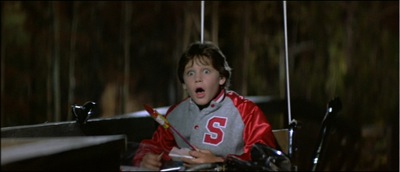 After some more killing, the town crushes Marty's pre-teen excitement by canceling the 4th of July firework show. Thankfully, Uncle Busey won't let a homicidal maniac disrupt his favorite nephew's fun. Thus, after building Marty a custom gas-powered wheel chair (the Silver Bullet from the film's title), Busey provides a slew of illegal fireworks, which Marty promptly takes to the nearest bridge to fire off, all by his lonesome. And why not, puberty is all about going it alone. Exploring new feelings, and becoming more comfortable with yourself. I'm talking about fireworks here people!
Aside from featuring some brilliant Haim acting, the fireworks scene serves as the turning point into Act III. When the werewolf sneaks up on Marty, the boy spins and points his ignited firework right at the beast. It erupts from his hand, and collides, tellingly, with the wolf's eye.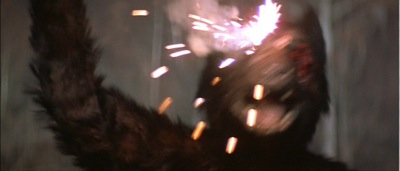 This minor victory, allowing Marty to motor home safely, also marks the child as a threat to the impotent reverend/werewolf. The direct shot also allows Marty, with the help of his sister, to discover the wolf's human identity. It's at this point that the narrative of "Silver Bullet" really starts to unravel, launching full force from standard monster film to pre-pubescent boy escapist fantasy. See, Marty doesn't go to his parents and establish any sort of rational plan for outing the reverend. Instead he enlists his sister, with whom he has a complicated and vaguely incestuous relationship, and his fun-loving, alcoholic, womanizer of an uncle (representing the untamed desires a boy might succumb to).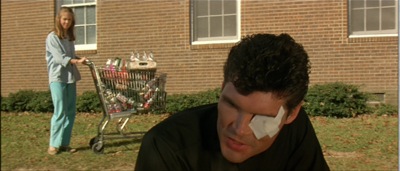 In this third act, as brother, sister and uncle make their way toward the final confrontation, the film continues to spiral downward. Sitting in 2008, with the somewhat heated debate about PG-13 horror hanging over the horror community, it's hard to imagine that this "Silver Bullet" ever gets made. The thematic choices—children growing into adulthood, sexual awakenings, desire vs. duty—are common in King stories, and in other horror as well, but are handled very simplistically here. Meanwhile, the filmmakers opted to go with a rather high body count, along with quite a bit of gore. This thrusts the film into a nether realm where it's too childish for most adults, yet too graphic for most children or teens.
As a werewolf film too, "Silver Bullet" ends up more muddled than it should. There are missed opportunities, and underwhelming creature effects. King does deploy one interesting change to the werewolf mythos, when the kids postulate that the reverend in fact changes every day, but that the cycle of the moon effects how strong his wolf-like behavior and urges are. This was likely a work-around, as it doesn't appear in the book, but it's a capable cover, and it presents another path that King neglected to really travel. This point though, does allow Marty and company to plan for the wolf's attack, which they somehow decide will be at the next full moon, when the wolf-urges are the strongest.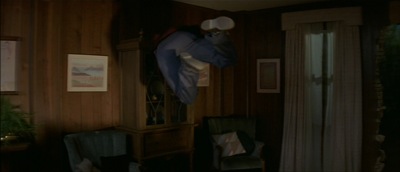 Dutifully, the wolf does show up. And though Uncle Busey does his best to protect his niece and nephew, he is summarily tossed aside. The Uncle's gun—that which marks him as a man and establishes his dominance over the wolf—ends up in the hands of Marty, who at the last moment fires an actual silver bullet to slay the wolf and protect his dear sister. It's all very cute, and it wraps up the story in a way that fulfills all the pre-teen male wet dreams (11-year-olds can save the day!). It's also the easiest possible ending imaginable.
One question that never really gets answered is why the reverend didn't just go to Marty in his human form. There is a chase sequence, one of the better scenes in the film actually, where Marty must use the Silver Bullet to escape from the reverend. But why not just show up during dinner time and speak with the boy? If we're to believe that Marty has to face this alone because no one will believe his story, then why not force Marty's hand and get him committed or discredited? This is all the more troubling because Marty and Jane both know the wolf's identity, and the reverend knows that they know. And they know that he knows. There's no mystery here!
King even begins to explore the idea that the reverend only kills those who have violated his Christian sense of right and wrong. This would also have thrown a whole new spin on the werewolf angle, but it unfortunately goes out the window when Marty's friends is killed early on (he was a naughty, snake-wielding friend, but too young to have really become a sinner). From there, survival seems to be the only thing that drives the wolf's actions. Still, the finale could have featured a more difficult moral choice for the boy if the characters weren't coded so crudely as "good" and "bad."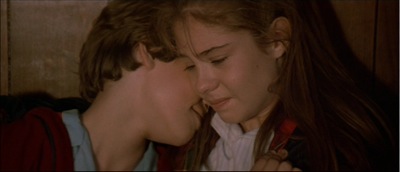 The final image of "Silver Bullet" brings the sexually confusing brother-sister plotline full circle. With Jane narrating, we learn that it was only through this trying ordeal that the pair was able to learn to love one another as more than just squabbling siblings. Marty is no longer a "cross that she must bear," and she is no longer a nagging second mommy. They've moved past the beast (puberty) that had invaded their lives. And in fact, it was Marty who made sure the beast was extinguished. Now, both can go on to live healthy, adult lives. It's also important to note that while the hedonistic Uncle Busey helped them survive, it was Jane and Marty who ultimately persevered.
For a lot of reasons, "Silver Bullet" fails to deliver where other Stephen King based films had succeeded. Largely though, it's a lack of subtlety that dooms this effort, and underlying that is an uneven screenplay by a brilliant writer who wasn't yet comfortable with a different format. "Silver Bullet" has acquired something of a reputation as a campy favorite, but the issue of camp is a difficult one to parse here. Whereas "Creepshow," a film I hope to dig into sometime soon, wears its camp ambitions more outwardly, "Silver Bullet" more often feels earnest. Perhaps, King was shooting for camp, but others wanted something more along the lines of "Cujo" or "Christine." If that's the case, it got stuck somewhere in the middle. What is more likely is that King, emboldened by eight or nine years of others finding success in the theater with his name, tried his hand at something that wasn't a good fit. A year later, "Maximum Overdrive" would see many of the same mistakes being made, although that film does manage to strike a more truly campy, if unevenly so, note.