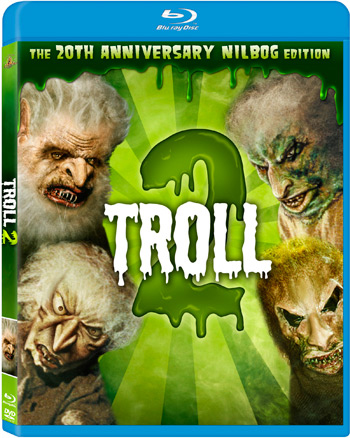 "Troll 2" Coming to Blu-Ray and DVD on October 5th
"Troll 2" came out almost twenty years ago and in honor of this a special edition Blu-Ray version of the film is being released. Every time I think about this I automatically ask myself one question, "why god?". I then immediately think about how excited I am to be able to add this awful masterpiece to my collection. Yes the movie is terrible and no there's no way that watching it on Blu-Ray, in all its hi-def glory is going to change any of that. But what can you do.
While no special features have been announced for "20th Anniversary Nilbog Edition" the Blu-Ray version does come with a copy of the film on standard DVD. The DVD version will also be available separately.
To go along with all the "Troll 2" madness the documentary "Best Worst Movie", which takes a look at the film's cult following recently made it to Rotten Tomatoes "Certified Fresh" list, currently sitting at 94% fresh.