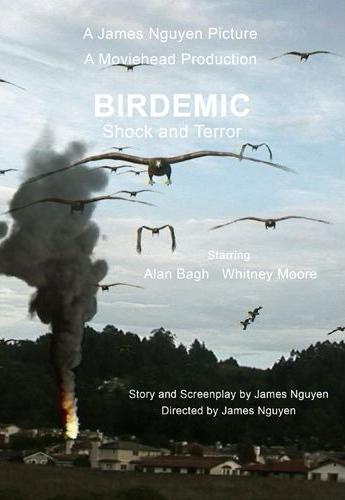 Trailer: New "Birdemic: Shock and Terror" Trailer and Movie Listings
Not going to lie, when I first saw the trailer for "Birdemic: Shock and Terror" I thought it was a joke. Honestly a month later I'm still not sure it isn't but there's a new trailer and a list of screenings available now so this sucker has gone legit. God help us.
A platoon of eagle & vultures attack the residence of a small town. Many people died. It's not known what caused the flying menace to attack. Two people managed to fight back, but will they survive Birdemic?
Sounds stupid I know but when you take into account that James Nguyen wrote, cast and filmed the entire thing over the past four years with the salary he earned as a mid-level software salesman in Silicon Valley you have to get a little misty.
You can check out the new trailer along with a long list of theaters that will be showing "Birdemic: Shock and Terror".
The Birdemic Experience Tour 2010 - Trailer
Uploaded by dreadcentral. - Check out other Film & TV videos.
April 16th -- LOS ANGELES, CA -- Cinefamily @ The Silent Movie Theater
April 16th & 17th -- WASHINGTON, DC -- E Street Theater
April 23rd -- PORTLAND, OR -- The Bridgetown Comedy Festival @ The Baghdad!
April 23rd & 24th -- DENVER, CO -- Esquire Theater (Director James Nguyen in person 4/24!)
April 23rd-25th, 28th -- DETROIT, MI -- The Burton Theater
April 23rd & 24th -- RICHMOND, VA -- Bowtie Cinemas
April 30th & May 1st -- SAN FRANCISCO, CA -- The Roxie Theater (Official Bay Area Premiere) *James Nguyen and Cast of BIRDEMIC in Attendance*
April 30th-May 6th -- PORTLAND, OR -- The Clinton Street Theater
May 7th & 8th -- NEW HAVEN, CT -- Bowties Cinemas @ The Criterion
May 8th -- PHILADELPHIA, PA -- Ritz East Theater
May 14th & 15th -- NASHVILLE, TN -- The Belcourt Theater
May 15th -- MILWAUKEE, WI -- The Oriental Theater
May 19th -- AUSTIN, TX -- Alamo Drafthouse Ritz
May 20th - TORONTO, ON - The Bloor Cinema (Presented by Rue Morgue)
May 21st & 22nd -- MINNEAPOLIS, MN -- The Uptown Theater
May 21st & 22nd -- HOUSTON, TX -- River Oaks Theater
May 21st & 22nd -- COLUMBUS, OH --
June 4th & 5th --- DALLAS, TX -- The Inwood Theater
June 4th - 6th -- BOSTON, MA -- The Brattle Theatre
June 11th & 12th -- CLEVELAND, OH -- The Cleveland Cinematheque
June 15th, 18th & 20th -- ATLANTA, GA -- The Plaza Theater
June 16th -- AUSTIN, TX -- Alamo Drafthouse Ritz
June 18th & 19th -- CHICAGO, IL -- The Music Box Theater - *James Nguyen in Attendance, presented by Bloody-Disgusting.com!
June 25th & 26th -- SEATTLE, WA -- The Egyptian Theater
July 16th & 17th - TUCSON, AZ -The Loft Cinema