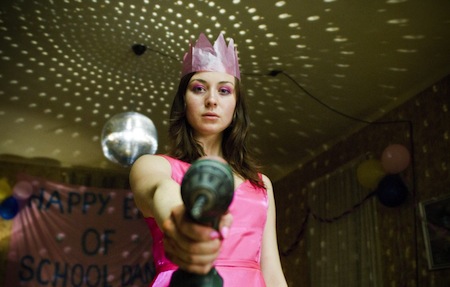 The Best Horror Movies of 2012: Eric's Take
BGH's editor in chief offers the final take on the best and worst of 2012.
The Best
1. Cabin in the Woods - Nothing else even comes close to "Cabin in the Woods" on this year's list. Whedon deftly deconstructs the genre while simultaneously reveling in its tropes, the mark of a truly great satire. The only exception? Don't try showing this movie to a non-horror fan, the stares of confusion will bum you out. This one is strictly for us weirdos.
2. Sinister - "Sinister" rated the highest on the "butt-clench" scale for me this year. It features great scare setups, a truly creepy story, some nice character development and a delightfully hammy performance by Ethan Hawke. Of all the films I saw this year, "Sinister" will probably be the one I go back to the most.
3. The Loved Ones - This year's pick for best foreign surprise. "The Loved Ones" is brutally intense and wickedly smart. Wins my vote for most gut-churning flick of the year.
4. Prometheus - Despite the plotholes, Prometheus remains a beautifully ambitious sci-fi horror film. If only Scott could have worked with a more coherent script, this could have reached legendary status.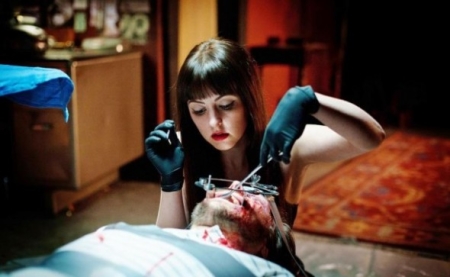 5. American Mary - Not a lot of people have seen this yet, and I can already hear the "overhyped" backlash when it gets released on DVD, but "American Mary" was a bright spot for me in an otherwise dull year for horror. The Soska Twins turned out a sexy, nasty little B movie, but frankly to me the most interesting part is the stuff going on under the hood. It's the way "American Mary" plays with gender and sexuality that really makes it stick out above the rest.
6. Found - I had the pleasure of seeing Found at this year's Horror Hound Weekend. A micro-budget indie production made in Indianapolis, "Found" tells the story of a young horror loving boy who discovers a dark secret in his brother's closet that changes his life forever. Although it's intensely depressing and deeply gruesome, "Found" also managed to be one of the more sweet and touching films I saw this year. It's essentially a love letter to the genre that helped many of us more isolated kids make it through our formative years. It's a small film that you may not have heard about yet, but if you get the chance to buy it on DVD, don't miss out.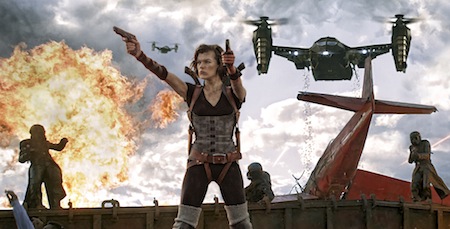 7. Resident Evil: Retribution - I realize no one will believe me, but "Retribution" is BY FAR the most competent action film in the entire Resident Evil series. Not only that, but they actually manage to narrow the cluster-eff of a plot down by the end, setting up what promises to be a ridiculously awesome finale to the series (presumably) next year. Stare at me all you want, I refuse to feel bad for loving this movie.
8. The Divide - "The Divide" starts out as your run of the mill "apocalyptic survivor" story, with a group of people trapped in a bomb shelter under a building in NYC. What starts conventionally though soon turns into the darkest film I've seen since maybe "Martyrs". It's not quite as overtly brutal, but the places "The Divide" will take your brain will not leave you feeling warm and fuzzy afterward. Powered by some of the strongest performances of the year, including Milo Ventimiglia and Michael Beihn, this one's not to be missed for horror fans who like to dive into the depths of human depravity.
9. V/H/S - Turns out, when Ti West makes a movie (or in this case, a short) where something actually happens, it's pretty good! This anthology flick is hit or miss but brings an anarchic "punk rock" spirit to a genre that sorely needs a kick in the pants right now. It may even creep into my Halloween marathons in the years to come.
10. Abraham Lincoln Vampire Hunter - You know, you have to laugh at a movie that pits Abraham Lincoln against vampires, but is worried enough about historical accuracy to put a prosthetic nose on their lead actor to make him look more authentic. I really can't tell if I enjoyed this movie more for the intentional or un-intentional humor, but either way it was a bright spot in an otherwise fairly pedestrian year for horror. Seriously though, HIS AXE HAS MELTED SILVER ON IT.
Special mention: YellowBrickRoad - This film didn't come out in 2012, but since I saw it this year I'm including it. Go ahead and try, you can't stop me! "YellowBrickRoad" probably creeped me out more than any film I saw this year. I have the heebie jeebies just thinking about it. Just don't expect a coherent ending, and you won't be disappointed by this bizarre little indie film.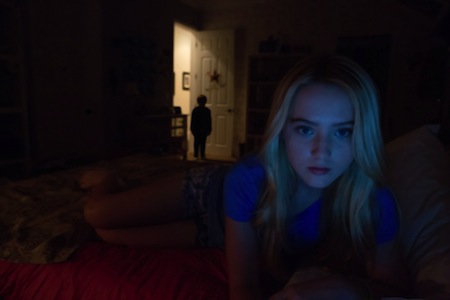 The Worst
1. Paranormal Activity 4 - After the strong showing for last year's "Paranormal Activity 3", I suppose we were due for a real stinker in this series. Still, that doesn't make it sting any less. It was the first time since these movies began that I could literally hear the studio executives laughing on their way to deposit my money in their bank account. Screw this series, I'm done.
2. Silent Hill Revalations 3D - The sequel nobody wanted to the film none of us can really remember, "Silent Hill Revelations 3D" made the fatal error of hewing incredibly close to the story set up in the first "Silent Hill" movie. With a lower budget this time around the visuals don't get enough time to shine, and we're left to ponder all the bad decisions that went into creating this film and putting it into theaters. Rest assured, someone lost their job over this.
3. The Innkeepers - I'm sorry but, I just don't get it. Imitating John Carpenter's style and using it in a film where LITERALLY NOTHING happens for 90 minutes does not justify the embarrassing love this film received this year from horror fans. As evidenced by his short in "V/H/S", Ti West is more than capable of making scary, suspenseful horror. But until he stops smelling his own farts and decides to start telling real stories where real things happen, he's going to wallow in the ghetto of On Demand and limited release. Here's hoping 2013 is the year where he proves me wrong.
4. The Devil Inside - Probably the most cynical cash grab I saw this year with the exception of PA4. Plus, spoiler alert, it ends with a URL...
5. The House at the End of the Street - I understand that this film wasn't made for me, but I still had to sit through it for the podcast and guess what, it was the most boring film I saw this year. In fact, you might say I #HATES'D it.