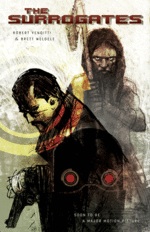 "Surrogates" Trailer Hits The Web
These days you can't spit in a comic book store without hitting a graphic novel that's being made into a movie. Trust me, I tried, and I'm still waiting for the Bloody Good Horror accounts payable department to reimburse me for the bill.
"Surrogates" stars Bruce Willis as a cop in the year 2054. Humans live in isolation and interact through surrogate robots. Willis is forced to leave his home for the first time in years to investigate the murders of a number of other surrogates. On the outside he finds things aren't all sunshine and gumdrops anymore. Sound a lot like "The Matrix"? Well not exactly,
The Surrogates is a story about progress and whether there exists a tipping point at which technological advancement will stop enhancing and start hindering our lives. It is also a commentary on identity, the Western obsession with physical appearance, and the growing trend to use science as a means of providing consumers with beauty on demand.
The film is based on the graphic novel of the same name. Penned by first time writer Robert Venditti, the book also features illustrations by Brett Weldele. The novel was also Venditti's first foray into mainstream comics and the first in-house book for Top Shelf Productions who are also know for the graphic novels From Hell, Blankets and Owly.
To me the story sounds a little bit more on the thinking side to me, rather then an excuse for Keanu Reeves to do back flips. Bruce Willis does have some mighty hair in the trailer also so you've got that going for you. I've never been a big comic fan but this one does sound pretty interesting and puts a different twist on a story that's become pretty familiar. Take a look at the trailer below and post your thoughts.