Shelf Space: "The Fog" Blu-ray Review
HI! My name is Jake. Since all I really do is sit in the dark and watch movies, I've been trusted to do some home media reviews for the site. There are tons of cult/horror blu-rays coming out every month but we, the fans, can only take home so many.. Shelf Space was created to help be your guiding light when making those tough decisions. It's an honor to be let aboard the Bloody Good Horror pimp ship as it continues its journey to internet greatness.
For the first review, 'Im hitting Scream Factory's release of John Carpenter's 1980 ghost flick "The Fog".
A coastal California town begins experiencing paranormal dissonance on its 100th anniversary after a mysterious fog bank passes through. The supernatural encounters quickly escalate to rotting-pirate-ghost violence as members of the town begin falling victim to meat hooks and worm-ridden faces. The story is told through an ensemble cast consisting of Carpenter's incestuous favorites, Jamie Lee Curtis (Halloween), Tom Atkins (Halloween III), and Adrienne Barbeau (Escape From New York). They even managed to tap the talents of the late Janet Leigh (Psycho).
Coming off of the surprise success of "Halloween", John Carpenter and his producer/creative-confidant, Debra Hill, decided to make their next feature focus on the more supernatural side of horror after gaining inspiration from a foggy trip to Stonehenge. Going into this film, Carpenter and Hill intended playing it as a more straight forward campfire ghost flick to separate itself from "Halloween". With surrounding films pushing the blood-splattered envelope (Scanners, Friday the 13th, Maniac), it would prove difficult to keep the horror fans stimulated by a ghastly mist alone. After testing poorly with audiences, it was clear that the film was in need of a more tangible fear as well as a modest dollop of on-screen gore. Thus, a hodgepodge re-shooting began; Adding in a good amount of knife hits and other graphic scenes. While this isn't really one of my top Carpenter films, I did read that it is held in high regards by BGH's editor-in-chief Eric. Who asked me anyways?
VIDEO: 4/5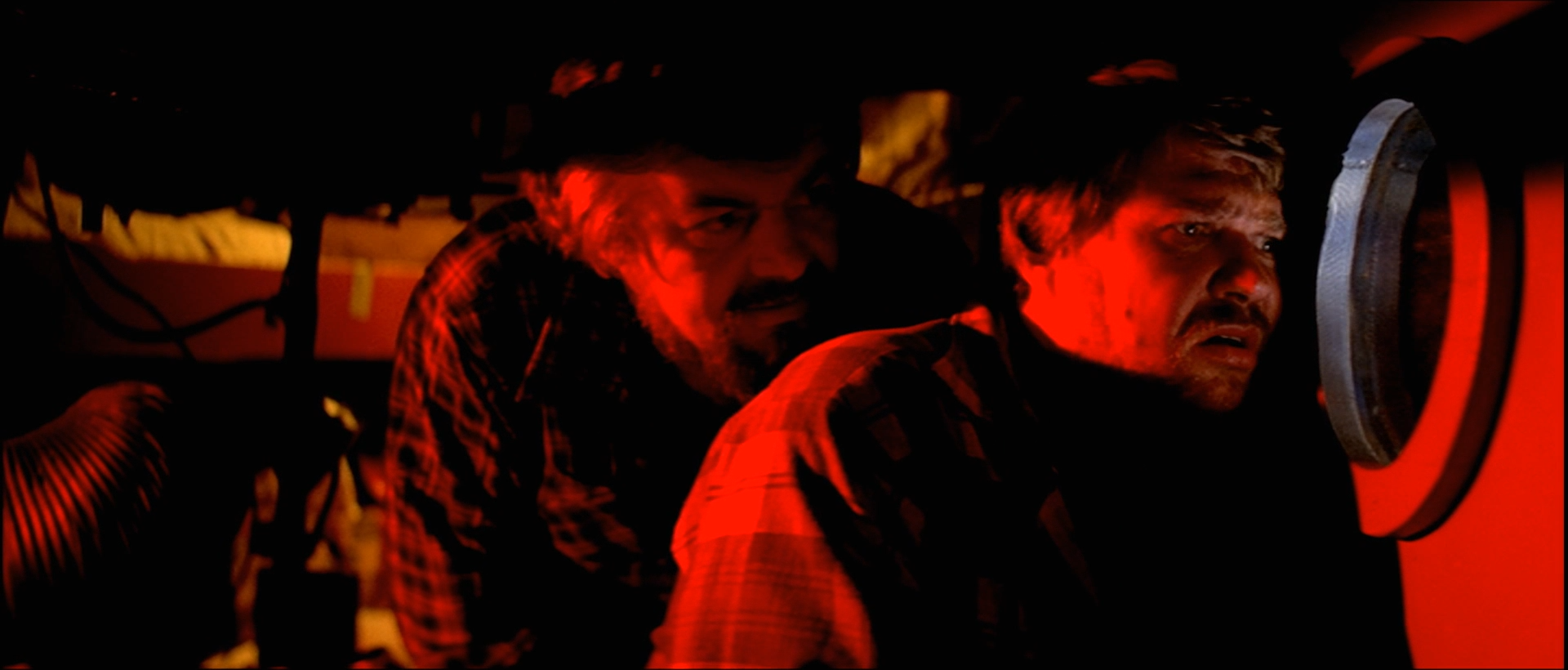 "The Fog" Blu-ray is presented in its original 2.35:1 widescreen- A notable aspect choice in Carpenter's body of work. The newly restored HD 1080p transfer (done under the supervision of the movie's cinematographer Dean Cundey) completely smashes the 2005 MGM release. It's been significantly brightened up while still managing to keep the colors rich and true to the original print. Nice crisp lines with only slight noise occurring every so often. Film scratches and grain remain in tact.
AUDIO: 3.5/5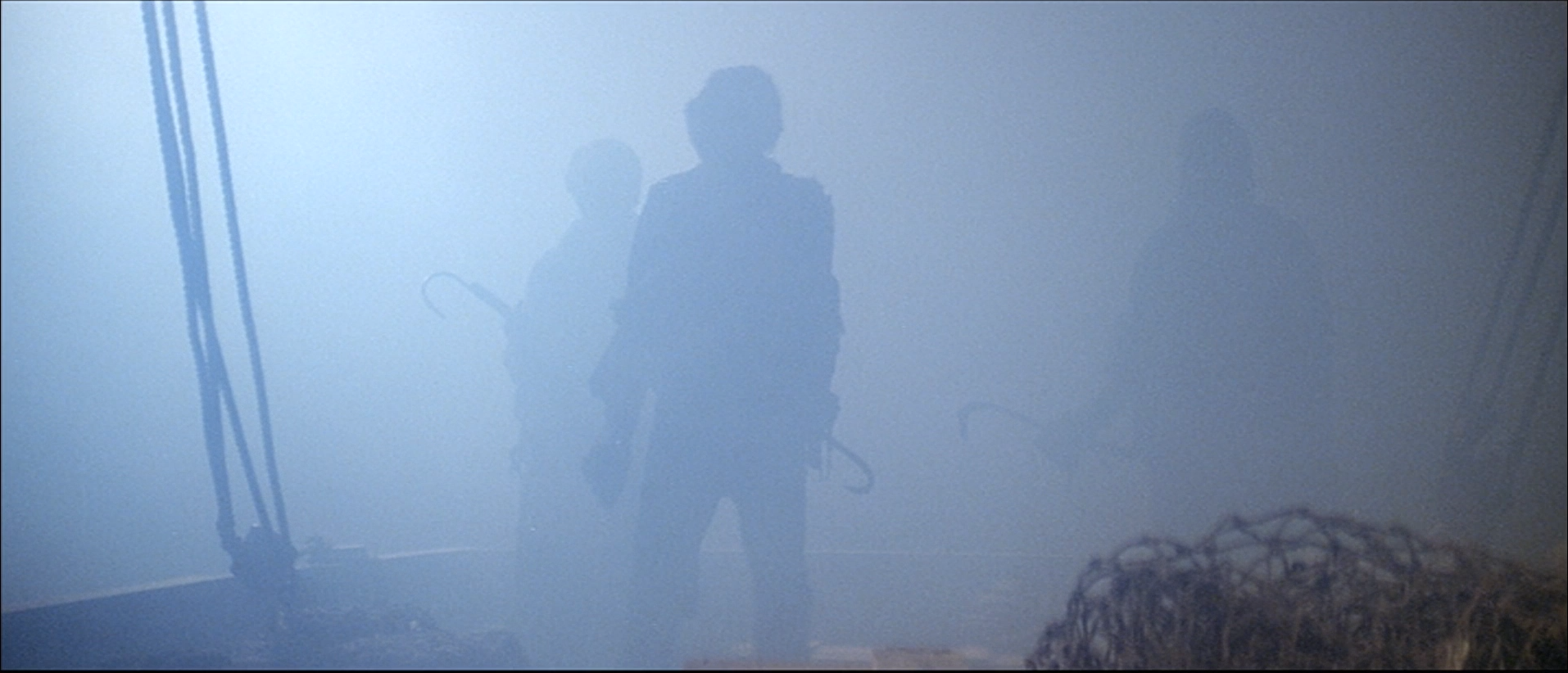 Presented in a new DTS-HD Master Audio 5.1 mix and its original mono mix. All layers are audible and properly represented in a clean fashion. The film's mix does becomes polarizing at points between some of the jump scares. I'm all about adding to the effect but I'm also not trying to juggle my remote the whole movie to keep the neighbors happy.
SUPPLEMENTS: 5/5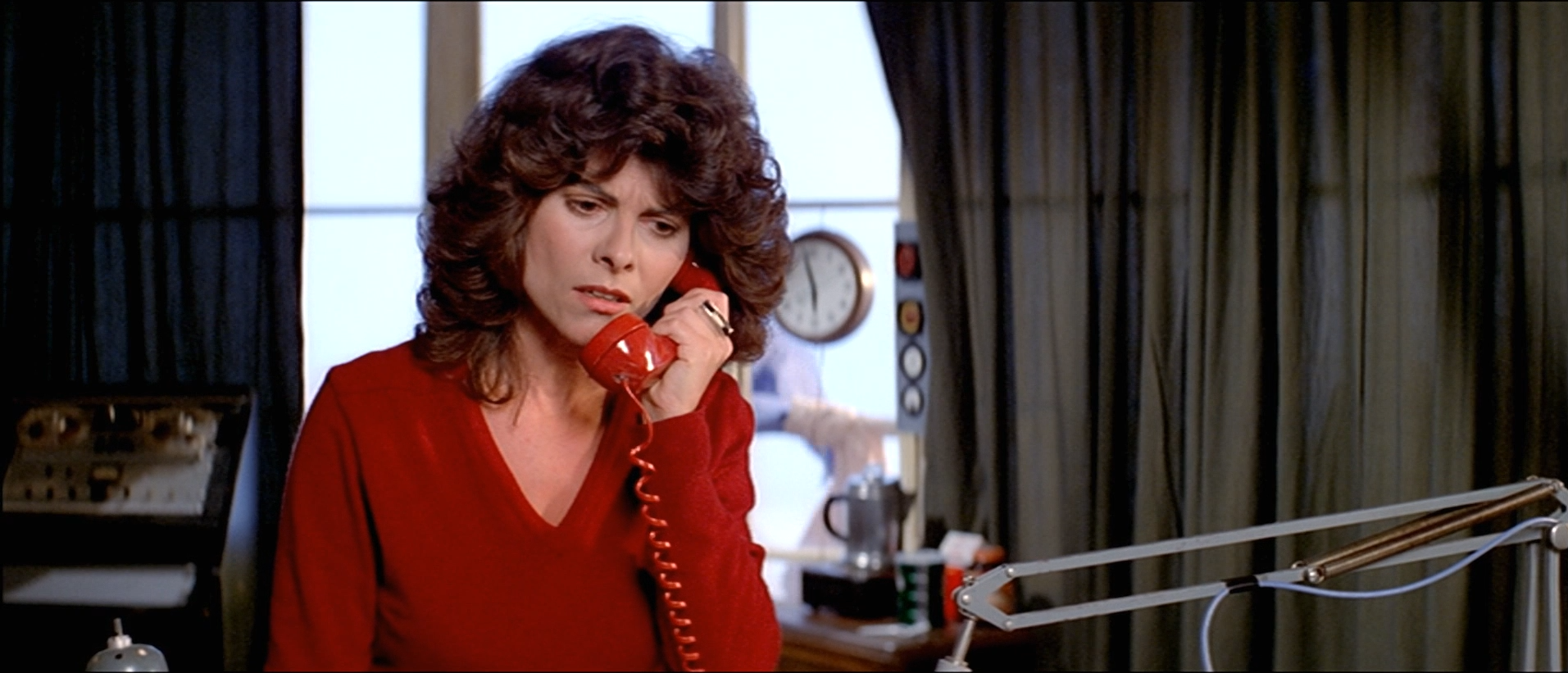 Scream Factory's release is literally exploding with extra shit to check out. Can I swear on here?? This includes all of the extras off of MGM's dvd release from 2005 as well as a few brand new vignettes exclusive to the Blu-ray.
-My Time with Terror (Jamie Lee Curtis): Jamie Lee Curtis sits down to discuss her reign as the scream queen. She manages to rib herself and others while touching on her early horror releases (Halloween, The Fog, Prom Night, Terror Train, Road Games, Halloween II). Watch this to find out what the actress really thinks about some of the films in her catalogue. Hint: Shots fired.
-Dean of Darkness (Dean Cundy): Interview with Carpenter's beloved cinematographer. Cundy runs through his repertoire of John Carpenter films and the different approaches he's had to take for each piece. Interesting technical discussion.
-Tales From the Mist: Clocking in just under a half an hour, this featurette was pulled from 2005 MGM release. An interesting in-depth report with cast and crew about the inception, production, and aforementioned reception issues with "The Fog".
-Fear on Film: Inside The Fog: The second featurette off the MGM DVD is a 1980 TV spot done in promotion of the release. Nothing much to chew on there with the exception of Jamie Lee Curtis' haircut.
-Horror's Hallowed Ground: Host, Sean Clark, takes you on a virtual tour of a variety of filming locations used in "The Fog". This is probably my least favorite part of any Scream Factory release. I mean.. I don't doubt that hardcore horror fans find this content interesting- I just feel that the way it's executed in a semi-haphazard fashion makes it more suitable for a YouTube channel rather than a proper Blu-ray release.
-Audio Commentary with John Carpenter and Debra Hill: The infamous duo play it pretty straight in this 2005 commentary- Giving us a rather lulling play by play of scenes at points just to fill dead air. There are some good nuggets of movie magic to be heard if you are able to endure- such as location shooting and low budget practical lighting discussion. Having said that, I honestly feel that the bite-sized Tales From the Mist has more to offer in a fraction of the time. My man may be a genius, but he is no talker.
-Audio Commentary with Actors Tom Atkins, Andrienne Barbeau and Production Designer Tommy Lee Wallace: Curated by Scream Factory favorite, Sean Clark, this Blu-ray exclusive audio track moves along quite nicely. Peppered with chuckle-invoking stories and interesting on/off set stories. Having more than two people on a commentary track will run the definite risk of stumbling over one another but they managed to handle it well for the most part.
-Other extras include story board to film comparison, tv spots, outtakes, advertisements, photo gallery
Should I make room?:
Yeah, go for it. This is a crucial piece for Carpenter completists and horror fans alike. It's presentation alone is something that looks great on the shelf. The Blu-ray is cased in a lovely card stock sleeve featuring new cover art from Justin Osbourn. On top of that, the actual insert itself is reversible with Osbourn's art on one side and the original video art on the other. That's a beautiful thing. Scream Factory has done an incredible job to make sure these cult releases are getting the reverential treatment they deserve. J.C. devotees, rejoice. *turns to giant synthesizer and starts jamming Van Halen's 'JUMP'*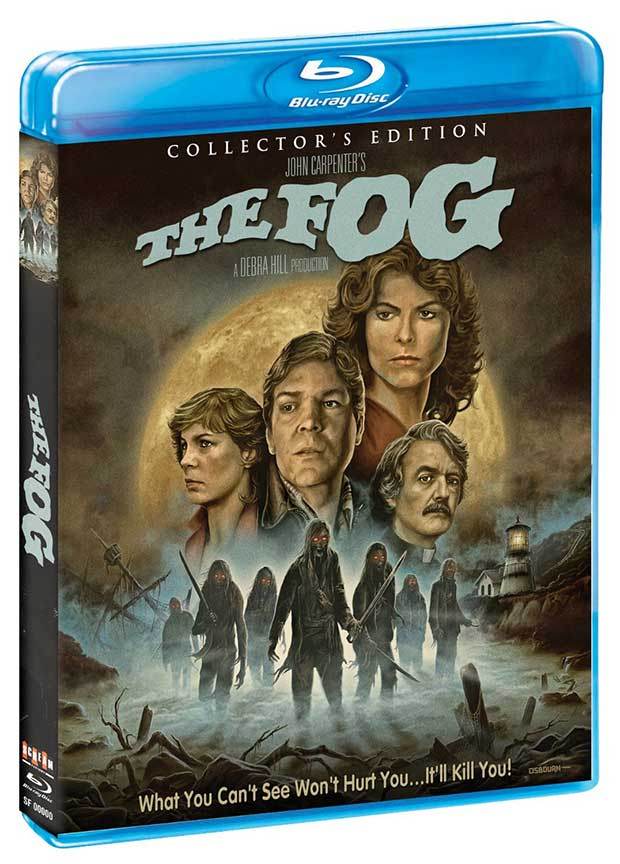 BUY IT HERE