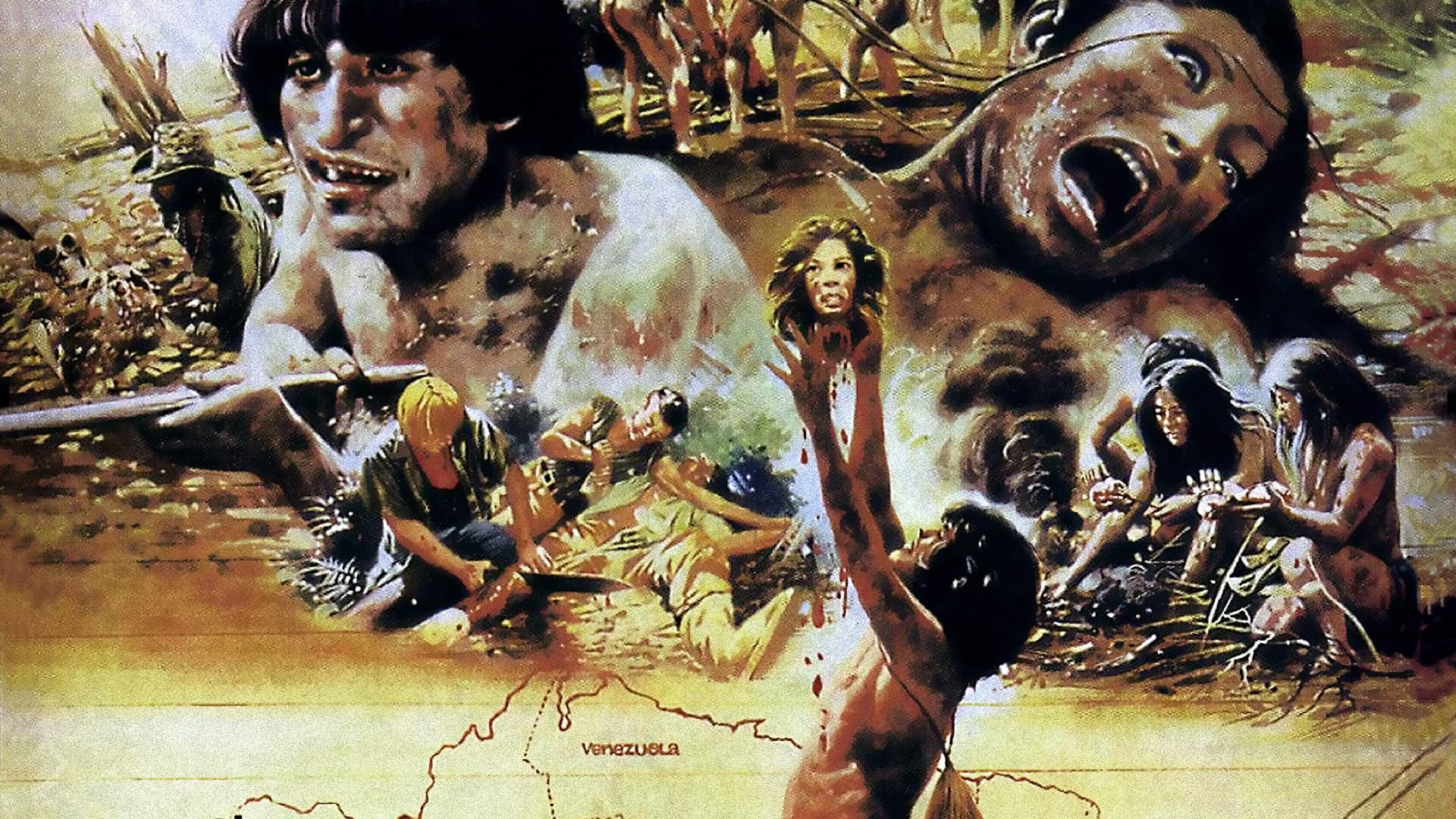 Screams Off Screen: Cannibal Holocaust
Note: Screams Off Screen is a regular feature committed to exploring the true stories that inspired horror cinema's darkest minds as well as the urban legends spawned by its most iconic films. In each installment, we'll venture beyond the safe glow of the screen in order to come face-to-face with the monsters lurking at the intersection of fact and fiction. Along the way, we'll meet small town ghosts, souls whose quest for fame began after they died, and other all-too-real reasons to be afraid of the dark.
---
It's only a movie. Those words are like a life preserver, pulling us to safety should the things unfolding onscreen get too intense. The marketing team tasked with selling Wes Craven's
The Last House on the Left understood the power the phrase holds. "To avoid fainting," the film's poster advised, "keep repeating it's only a movie … it's only a movie …" with the last line echoing into oblivion. Some in the scary movie business prefer to do the opposite. Purposefully blurring the line between fact and fiction, filmmakers have sought to disarm viewers by introducing just enough uncertainty so as to rob those words of their ability to comfort. Sometimes, they do such a good job, it isn't just viewers left questioning what's real.
Italian director Ruggero Deodato's Cannibal Holocaust begins with a traditional narrative structure. A team of documentary filmmakers has gone missing while working on a project about Amazonian cannibals. This familiar approach vanishes with the discovery that the team members – director Allan Yates (Carl Gabriel Yorke), script supervisor Faye (Francesca Ciardi) and cameramen Jack (Perry Pirkanen) and Mark (Luca Barbareschi) – have been killed and consumed by the tribes they were studying. From there, Deodato's film adopts a nontraditional, cinema verite style to document their final days. We watch as, in what is presented as their own "uncut footage," the filmmakers torture and abuse the indigenous people, inciting gruesome retribution.
"I know how scary it is to watch this movie," Yorke said of Cannibal Holocaust during a retrospective interview detailing his experiences on the film. "To watch it being made was equally scary. It might have been more scary." Yorke's fears stemmed from the level of cruelty he claims to have witnessed on set. Cannibal Holocaust has gained infamy over the years for including numerous scenes of authentic violence committed against animals. Yorke recalled objecting to a scene where a native cast member was to split open the head of a live monkey with a machete and dine on its brain. "But this is the movies," he protested. "You don't have to do that." Cannibal Holocaust, however, was never meant to be like other movies and Yorke's protests were ignored.
In the aftermath of the monkey killing, Yorke began to worry about his own safety. "What I didn't know," he recalled, "was whether or not they were going to do
that to us." Unsure if he'd joined the cast of a snuff film, Yorke took steps to ensure his survival. He kept his passport, his plane ticket, and all of the money he earned with him at all times, in case he might have to make a run for it. "I have no idea what I thought I was going to do, from a movie set 45 minutes away by boat from the nearest town," Yorke confessed. "But I carried all of that with me just in case."
It wasn't just his own life Yorke believed could be in jeopardy. Cannibal Holocaust includes a sequence where Yates and his team corner members of a native tribe inside a thatched hut and set it ablaze. There was no movie magic used to realize this scene. Dozens of local villagers were positioned inside a burning structure and told to remain there until instructed otherwise. Yorke has admitted feeling certain he was about to witness the fiery deaths of those inside. Fortunately the villagers made it through production unscathed.
Yorke's take on the creation of Cannibal Holocaust differs significantly from that of his co-star, Luca Barbareschi. "In reality, we never mistreated Indians. We never did anything wrong. It was all make believe," the actor flatly asserts during In the Jungle, a documentary looking back on the production of the film as well as on its lasting cultural impact. He added "no one ever rebelled on the set" in response to the animal cruelty. Four decades later, it's hard to discern which account is accurate and which has evolved in response to critiques levied at the film. Upon its initial release, at least, questions did exist as to whether or not Deodato had gone too far – and it wasn't just his actors asking them.
Within two weeks of its premiere, Cannibal Holocaust was pulled from Italian theaters amid rumors Deodato and his crew had actually murdered Yorke, Barbareschi and the others. Refuting this accusation proved difficult as Deodato had gone to great lengths to further the illusion of Cannibal Holocaust as truth. Each actor had signed a contract to disappear for one year after the release of the film. Facing murder charges, Deodato scrambled to find Barbareschi who, in turn, found his cast mates. Even with his actors alive, Deodato wasn't quite out of the jungle. An Italian court charged him with violating a law against killing animals for entertainment. By the time the legal matters were resolved and Cannibal Holocaust was re-released, Deodato mused the film "no longer had the impact it had when it first came out." Considering its "impact" could have landed him in jail, that may have been for the best.
While questions about his methods will likely never go away, what Deodato achieved with Cannibal Holocaust can't be denied. Modern films like The Blair Witch Project have followed in his footsteps, experiencing massive success by robbing audiences of their ability to say, with certainty, that what they're watching isn't real. Just like with Cannibal Holocaust, sometimes those doubts linger even after the credits roll. And by the time The Blair Witch Project was released in 1999, filmmakers had a new tool at their disposal which they could use to keep audiences guessing. "For a while, we were listed as deceased on IMDB," Blair Witch actor Joshua Leonard said in an interview with The Guardian. "Our parents started getting condolence calls."
---
Sources
De Angelis, Michele. "In the Jungle: Making of Cannibal Holocaust." 2003.
Fenton, Harvey; Grainger, Julian; and Castoldi, Gian Luca. Cannibal Holocaust and the Savage Cinema of Ruggero Deodato. FAB Press, 2011.
Hoad, Phil. "How We Made The Blair Witch Project." The Guardian, https://www.theguardian.com/culture/2018/may/21/how-we-made-the-blair-witch-project
Stallone, Sage. "Alan Yates Uncovered." 2005. Cannibal Holocaust Deluxe Edition DVD. Grindhouse Releasing.
Weiner, Robert G. and Cline, John. Cinema Inferno: Celluloid Explosions from the Cultural Margins. Scarecrow Press, 2010.