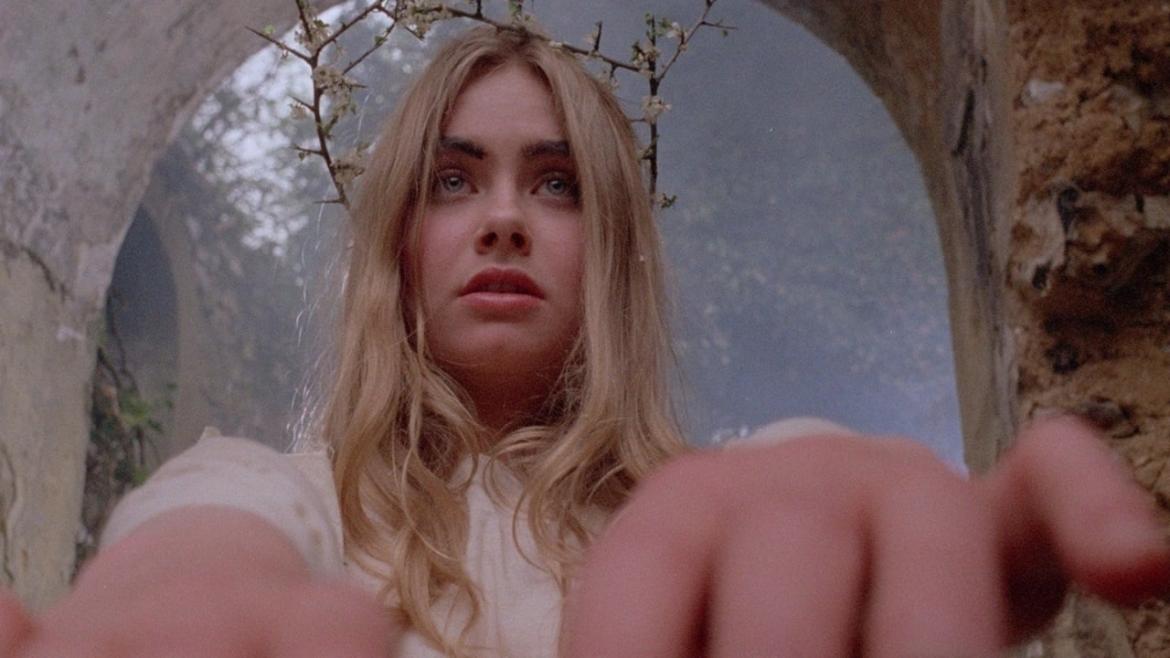 Woodlands Dark and Days Bewitched: A History of Folk Horror (Movie Review)
Deep in thickets of twisted roots or from communities irrevocably entangled, spring forces uncanny with intents unknown. But from where do all these nasty bits come from? Locating the origins and projects of "folk horror" is a bit like embarking on an anthropological study that's constantly shifting based not only on when the thing you're looking at was made, but also from what context we are looking at it. In Kier-La Janisse's Woodlands Dark and Days Bewitched: A History of Folk Horror, the writer/director presents an ambitious examination of folk horror that at once embraces the branching, neubeules structure of its subject while offering the audience a comprehensive primer on what some people mean when they use the term "folk horror."
Woodlands Dark opens with a look at folk horror's etymological roots and its significant cinematic cultural origins, specifically in the "Unholy Trinity" of British horror cinema: Witchfinder General (Reeves, 1968), Blood on Satan's Claw (Haggard, 1971) and The Wicker Man (Hardy, 1973). These titles may be favorites of many horror fans, but Janiesse astutely does not dwell on them as subjects; instead, the films are used to set up how the documentary will be handling folk horror as a topic. Through a collection of talking-head interviews with filmmakers and writers, we're provided with an examination of numerous works through a cultural studies lens that also sets up many tendencies that will be found in other subject films including psycho geography, sexism, and modernist notions of progress.
Clocking in at 3 hours and 14 minutes, Woodlands Dark is brimming with thoughtful criticism and genuine exuberance for the subject. Over the course of six chapters the film guides the audience through permutations of folk horror in the UK, the United States, and throughout the world. The film wisely employs a series of eerie collage animations by Guy Maddin between these chapters as actors read poetry or folk songs are performed. The sequences provide a much needed sensory break while effectively riding a slow roll of creeping dread. Interviewees include scholars, journalists, and filmmakers who have contributed to the genre in their work--Mattie Do, Robert Eggars, Emma Tammi & Teresa Sutherland, Katrin Gebbe, to name but a few. Each participant offers an engaging analysis on a specific film or they dive deep into the murkier waters of how these films, purposefully or not, trade in colonial violence, racism, and religion.

In the background of the proceedings though is the question: if these film's can fundamentally be regarded as "return of the repressed" narratives, then what exactly makes "folk" horror distinct from any other type of horror? Is folk horror as we know it just another subject of the "I know it when I see it" fallacy? Is it even appropriate to equally apply the term to films from Indonesia, the UK, and Brazil as the film does? For Janisse, it's not an either/or question. Instead, Woodlands Dark uses this human drive to categorize, to explore obsessions with teleology, progress, and our fleeting yet powerful hunger to connect with the earth and our communities.
In the closing sequences of Woodlands Dark the film makes a correlation between our present moment with chaotic events in Western culture in the late 1960s and 70s. "What's past is prologue", an interviewee offers. The connection is all a bit too tidy but the rigor of the film's previous 3 hours makes the observation difficult to write off. Woodlands Dark and Days Bewitched: A History of Folk Horror is an expansive, engaging piece of horror criticism that viewers will want to dig into long after a first viewing.
Screened as a part of the 2021 SXSW Online Film Festival