Hellboy II: The Golden Army (Movie Review)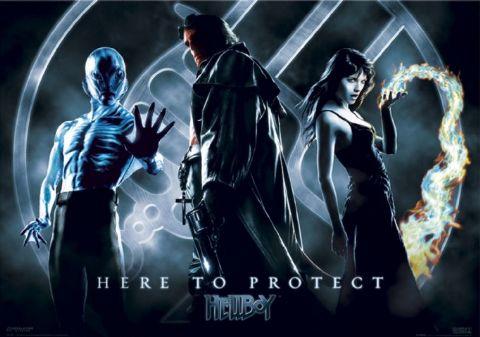 The mythical world is not happy with those of us here on Earth, especially Prince Nuada. Returning from exile the prince usurps his father's throne in order to bring to life the Golden Army and declare war on the mortal world. Thankfully for us, we have Hellboy and his BRPD cronies on hand to help quell the uprising as they go to battle against the prince and his minions.
2004 introduced Hellboy to the big screen packed with action, humor, and Ron Perlman in a big red suit. For those not familiar with the comics, the movie showed glimpses of a fantastical world filled with demons and creatures barely imagined, with a brief back story of the young demon. With "Hellboy II: The Golden Army", the world of Hellboy is expanded and fleshed out making the entire universe more tangible and easier to sink our teeth into. Expanding ever so slightly on the back story of our demonic hero and his gang of fellow monsters, the franchise is formed into a action packed entity with many off shoots and some history to boot.
The biggest improvement over the first entry in the "Hellboy" world is an improved story telling that manages to be more cohesive. Where the first movie was fun, it felt brief and slightly glossed over. In "Hellboy II", the depth of the world is fully exposed and makes for a fun watch while building hopes for even more adventure. Filling us in on the mythical world ruled by Elves, it now begins to hint at a real and natural feeling. Not only that, this world is Mike Mignola and Guillermo Del Toro's own.
Never does it feel like a re-hash of twice told tales; instead the entirety is unique. Even their description of Elves, dark and mysterious with a wood like facade, is a new twist on the race. Where "Lord of the Rings" and countless other tales paint the Elven race as wispy and magical, the Elves of "Hellboy" are dark. Often times we are left to wonder their true nature as Prince Nuada unveils his ultimate plan. At the opposite end of the spectrum, we can still see that he is not exactly evil in his own world. While appearing aggressive and dangerous, he only has the good of his own kind in mind. Adding to the story telling fun, never does "Hellboy II" feel like a tacked on sequel to the former movie. Instead, it feels much like an additional story in the world ensuring us that the franchise could indeed hold a long life showing us glimpses of their dark universe as opposed to stretching out a story in hopes of profit.
Ron Perlman returns to the role of Hellboy and he still feels like a natural fit. Bringing to life the once horned hero from the comic book pages, his sence of humor and hamminess is a perfect balance for the hard hitting action sequences. Selma Blair, while often seeming brooding and moody, still manages to bring a level of 'real life' to the craziness that surrounds her. Not given much to work with, she does appear flat at times but overall, the need for this is there and she works well with what she has.
Doug Jones pulls triple duty this time around and does so masterfully. Returning as Abe Sapien as well as filling in for the Angel of Death, the man showcases his odd mannerisms and speech bringing to life three completely separate characters. New to the cast this time around is Luke Goss as the elfin Prince Nuada. Always imposing, often creepy in an otherworldly manner, he brings the Prince to life and helps the viewer to tune into his need and drive.
There's not too much negative to say for "Hellboy II: The Golden Army". For me, it is a definite improvement over the first installment. Where "Hellboy" was fun, it still managed to leave me somewhat disappointed. After "Hellboy II", I was left with a large grin on my face having enjoyed a old fashioned action romp with great atmosphere and some creepy denizens to boot.
Ultimately, the sequel felt like what the first should have been. I can only hope now that we will soon return to the world of Hellboy and Abe Sapien as they dive into yet another case for the BPRD. You can count on me being there rooting for them when they do.