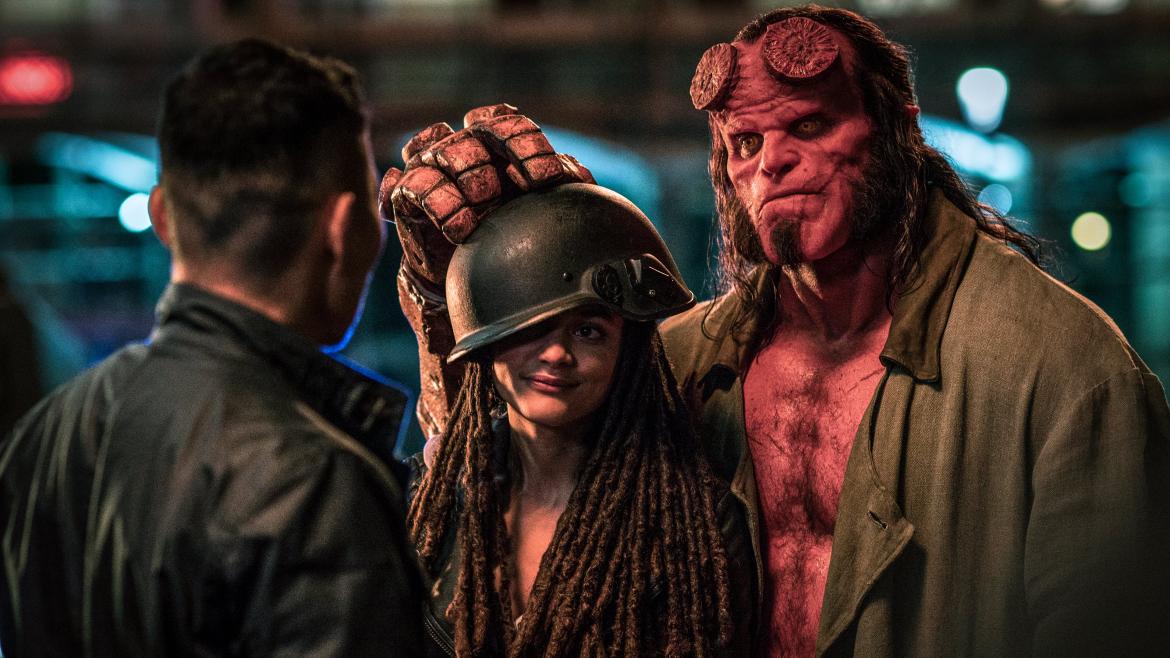 Hellboy (2019) (Movie Review)
Fans of Mike Mignola's Hellboy series were given slight hope that their favorite demon cop would have a triumphant cinematic return this year. 2008's Hellboy II: The Golden Army was the last time the half-demon hero was on screen, making this 11-years-later reboot a welcome sight. However, the two figures that made Hellboy's first two movie adaptations such an enjoyable ride—director Guillermo del Toro and actor Ron Perlman—are not part of this new vision. Instead, audiences were given director Neil Marshall's take on the spiritual tale. While Hellboy 2019 separates itself from del Toro's vision by starting things fresh, it drowns in the shadow of the original's superb tone and blood-soaked joy viewers have come to love.
The latest installment takes inspiration from a few of Mignola's stories. A majority of the plot features moments and ideas from Wild Hunt. Here Hellboy (David Harbour) tags along with a group of noblemen as they encounter the Blood Queen Nimue (Milla Jovovich) who was thwarted by King Arthur in the Dark Ages. Writer Andrew Cosby's script takes some unexpected notes from other parts of Mignola's work, too, including the vampire luchador world from Hellboy in Mexico. One of the bright spots of the reboot are these many nods to the original comics, like Lobster Johnson and Baba Yaga, but Mignola's guiding hand is clearly missing in the lore-heavy toy box. While elements of the plot feel pulled right from the comic page, the reasons connecting them are absent. A majority of the character interactions are used to push Hellboy to another mission or fight instead of taking time to build characters. In turn, Hellboy just trots around the world to bash baddies' brains from action spectacle to action spectacle.
Perhaps the most striking difference between Marshall's recent take on the property and del Toro's comes down to tone. For a story that revolves around Hellboy's struggle with his identity as a demon and his place among the human race, the emotional complexities of that struggle are painfully absent in Marshall's film. In place of the warm beating heart pulsing through del Toro's two films (thanks to Perlman's pitch perfect performance that help us mere mortals sympathize with a demon), Hellboy 2019 pours a cocktail of gore, grunge, and sarcasm. Both Hellboy 2004 and its 2008 sequel gave viewers a chance to sympathize with both monster and man, bringing emotional weight to most deaths. There's humor and warmth amidst the hell on earth. As for the reboot, Marshall seems to have relied too heavily on his strength as a horror director. The claustrophobic and unrelenting violence he crafted for The Descent works beautifully in its cave setting, but taking that same idea and applying it to Hellboy's robust and colorful world makes everything seem too loud and confusing. The attempts at tongue-in-cheek humor feel flat or out of tone with the rest of the action-heavy scenes. This is most clearly exemplified in a sequence involving Nimue's cut up body watching TV while waiting for her minions to find her missing body parts. Moments like this don't do the film's already shaky tone any favors.
In the end, Marshall's reboot feels wholly unnecessary and forgettable when it's not blasting gore at the screen. Yes, Hellboy has always been a deliciously grotesque story, but the emotionally rich characters were also a large reason why fans of the original comics and del Toro's films kept coming back. Hellboy 2019 isn't exactly bad, it's just not the Second Coming of Satan we've wanted.