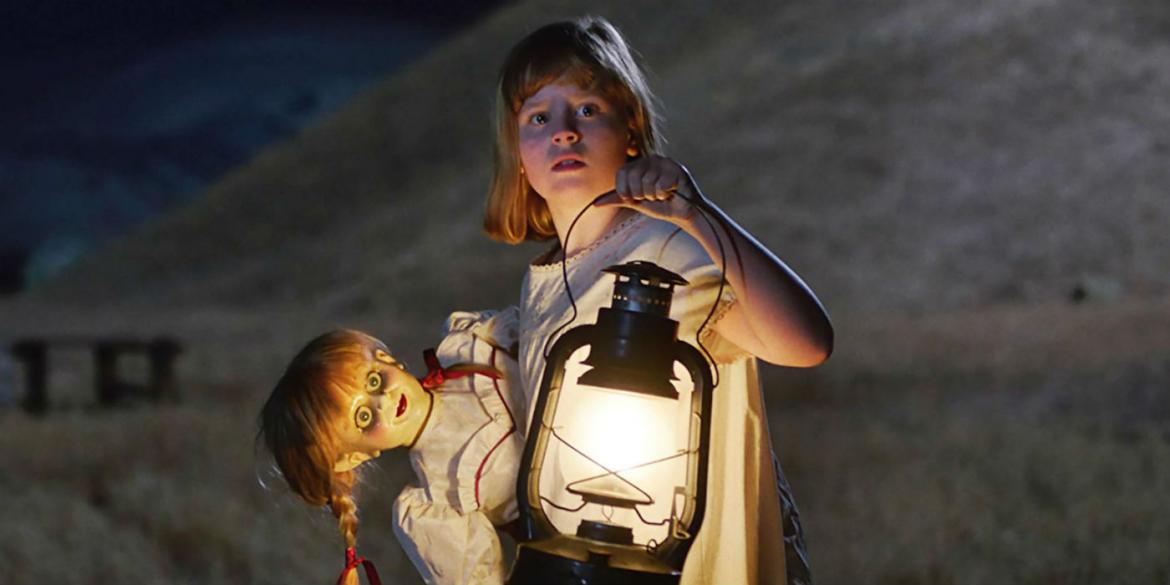 Annabelle: Creation (Movie Review)
The Godfather Part II. Aliens. Terminator II: Judgment Day. John Wick II. Christmas Vacation. All films easily – and arguably – better than their predecessors. Annabelle: Creation is such a case. But that doesn't mean you should see it.
Prior to an advanced screening of Creation several months ago, I hadn't watched Annabelle (which sits at a generous 37% on Metacritic). Yet, I was willing to give Creation a chance, having enjoyed both Conjuring films. Since that screening, and a recent viewing of Annabelle, it became apparent that like Kevin Smith's Tusk, the Annabelle movies happen at you. As an unrelenting assault on the creative senses, the Conjuring universe films should have avoided the Annabelle doll mythology; they're the cynical and tone-deaf step siblings to Illumination Entertainment's Despicable Me films and Minions: equally joyless rides that have found a way to monetize noise and crude simplification.
A prequel to Annabelle, Creation sees a group of Catholic orphans relocated to a decrepit farmhouse in the California desert. Linda (Ouija: Origins of Evil's Lulu Wilson) and Janice (Talitha Bateman), two of the girls, come to discover the doll from hell after it summons the nearly crippled Janice from her bed one night. Janice soon comes under the spell of the doll, which is possessed by a demon in the form of the dead daughter, Annabelle, of the man who allows the orphans to stay at his house. As Janice's behavior grows erratic, the headmistress of the girls, Sister Charlotte (Stephanie Sigman putting on her best Rosario Dawson impersonation), unites with Linda to defeat the evil that has overtaken Janice.
Creation was an opportunity to stand apart from its predecessors, however it abides by an established formula that will offer little pleasure for ardent fans, or even newcomers to the series. As the forth film in the Conjuring universe, the demon in the doll has little relevancy to the cultural zeitgeist of possession films, especially when its origin story is devoid of originality, and its filmmakers demonstrate a deficit of visual precision necessary to elicit shock. While Mike Flanagan had success with Origin of Evil, producing a familiar story, but with effectively staged scares, Creation gloats in its perverse cynicism; trying to grip viewers with aberrant behaviors too cheesy to be remotely convincing or unsettling.
Even Annabelle had some level of wit, with the demon targeting a less suspecting character in its finale. Here, director David F. Sandberg (Lights Out), and Annabelle scribe, Gary Dauberman, opt for literalism with their target of pain, taking glee in a level of tasteless sadism, with underbaked frights telegraphed in advanced that will fail to unsettle even the most squeamish of viewers. (When your demon descends from the ceiling of a barn like Spider-Man, looking like the monster from Colossal…). And somewhat shockingly, Creation is glacially paced and overstuffed with scenes between characters, protracting its already thin plot. Miranda Otto is, perhaps, the film's greatest waste and also its biggest joke, and her character frequently ruptures any possible tension the filmmakers were building towards.
Creation fails to even stand as a serviceable tie-in to its follow-up. In Annabelle, we saw a young woman who had joined a Manson-esq cult murder her parents. This is where Creation strives to bridge the series, but stumbles in constructing a stable thesis for the murders to occur. It's a sequence that is easily 2017's testament to bad studio writing, and the sole (amongst numerous) reason(s) for why the Annabelle series needs to end.
Granted, Annabelle: Creation is an improvement over Annabelle in nearly every department, even if they are minor strides. Sandberg is able to create a believable setting for the events to unfold, and some actors (namely Wilson) are passable. The final product, though, is devoid of atmosphere, largely due to Dauberman's incompetency in constructing an engaging mythos to warrant exploration. It's hard to deny the appeal of the films, and Warner Bros. has clearly profited, as both The Nun (which already finished production) and The Crooked Man are in the release gauntlet. Perhaps they'll amend the misfires of Annabelle and Creation. Wonder Woman sure did.