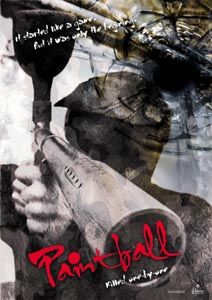 With the exception of "Jason Lives: Friday the 13th Part VI," the horror paintball market is virtually untapped. Leave it to those kooky Spaniards to pick up the ball and run with it.
"Paintball" is about a group of young, urban workaholics who are dropped in the middle of the woods for a weekend of action-packed fun. Unfortunately, someone didn't read the memo about not using live ammo and ends up spoiling the weekend for everyone.
They wanted adventure? They got it. Deep in the woods, one group is ambushed. Invisible snipers pin them down in a hail of paint then one of their number collapses, writhing in agony. Red blood mixes with the paint. Confusion reigns. Who is shooting at them? In the silence, they stare round at each other, and into the forest, looking for a traitor or some kind of explanation. The rules of the game have changed. The only law is the law of the jungle, and nobody trusts anybody else. Hidden among the trees, camouflaged by leaves and branches, there are deadly traps. Hunted down like prey in a lethal game, the teams face a desperate struggle for survival. There's nothing like a brush with death to make you feel alive.
That's about all I can get from the trailer and the IMDB page, but I'm guessing there isn't much more to the film. Director Augusto de Fraga's only other credit is "H2ombre," which I'd like to think is a Spanish version of Rob Zombie's upcoming "H2". "Paintball" recently showed at Tribeca Film Festival to mixed reviews and should see a US DVD release date shortly. In the meantime you can check out the English trailer below.