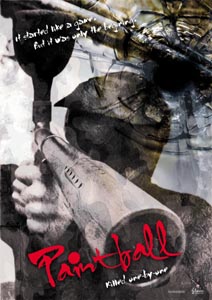 I mean for serious, what do you say about a horror film called "Paintball", other than the fact that it exists? Well, that, and maybe the fact that this trailer is much better than it has any right to be.
This comes from Filmax, the Spanish company responsible for "Beyond Re-Animator" from a few years back. Not sure that's a check mark in their column, but what are you gonna do. In the least maybe we'll see a severed penis and a rat fight it out to the death.




Eight strangers convene in a remote forest for an expensive experts-only paintball retreat. The enter the game at fulll throttle, but already something's not right.
The rules have changed and more is at stake than they expected.
This frantic thriller is akin to a live-action video game, but getting to Level 10 doesn't seem to guarantee anything.