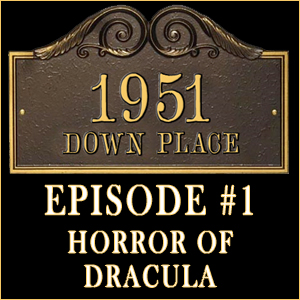 My New Podcast: Welcome to 1951 Down Place!...
I've mentioned my love of Hammer flicks many times over on the Bloody Good Horror Podcast. I've never really gone in depth with this love affair on the air however. Seeing as I love to talk movies and books and such, why not bring in some friends to talk Hammer films? Luckily, I have two friends that love Hammer as much as I do, so I've joined forces with Derek, a.k.a. Brother D from Mail Order Zombie Podcast and Scott from The Disney Indiana Podcast to do just that: talk about Hammer movies.
1951 Down Place will be a monthly podcast, with new episodes airing at the end of each month. The format will be all Hammer, all the time, but not just the horror fare! Hammer was well known for epic adventure, Sherlock Holmes and more, and we plan on covering all aspects of the studio! To kick things off, we're going with a Hammer classic and presenting you an in depth discussion on Christopher Lee and Peter Cushing's "Horror of Dracula"!
The first episode is now online at the official feed of 1951 Downing Place. For the latest and greatest news on the new podcast, be sure to follow us at the new official website, 1951downplace.com!