Horror Comics: An interview with artist Walt Flanagan
Walt Flanagan wears a lot of hats. He's the manager of a comic book store, a comic book artist (having drawn everything from the epic classic monster mash-up "War of the Undead" to Batman) the star of AMC's "Comic Book Men", and a co-host of the popular, multiple award winning podcast "Tell 'Em Steve Dave". This October, Flanagan (along with writer and co-creator Bryan Johnson) brings us "Cryptozoic Man".
From publisher Dynamite Entertainment:
"From Walt Flanagan and Bryan Johnson of AMC TV's "Comic Book Men" comes "Cryptozoic Man"! Alan Ostman, a middle-aged husband/father, sees his life quickly unravel when his daughter goes missing on a camping trip in the Pacific Northwest...Bigfoot country. After Gray aliens abduct him from a roadside bar, he learns that the fate of the world is dependent on trapping the world's most legendary cryptids...not to mention defeating a psychopath in a pig-shaped leather bondage mask, Alan knows he has his work cut out for him. The storyline revolving around this four issue series will be revisited in Comic Book Men Season III."
BGH had a chance to shoot Flanagan some questions about the upcoming book.
_____________________________________________________________________________________
BGH: Cryptozoic Man features a multitude of monsters from urban legends and folklore, such as Sasquatch and the Jersey Devil. What was your favorite monster you drew for the book?
Walt Flanagan: What's really fun about this series is I get to draw some sort of monster on almost every page...but my favorite to draw would have to be the star of the book.
BGH: You made a conscious decision to make Cryptozoic Man middle aged. Why did you make this choice rather than the stereotypical teen/young hero normally featured in comics?
WF: Not sure if being a middle aged man myself played into the age of the character... possibly, but I think it had more to do with being a child of the seventies and reading comics of that era; almost all the books from then always had a middle aged hero, so I think I leaned towards that model.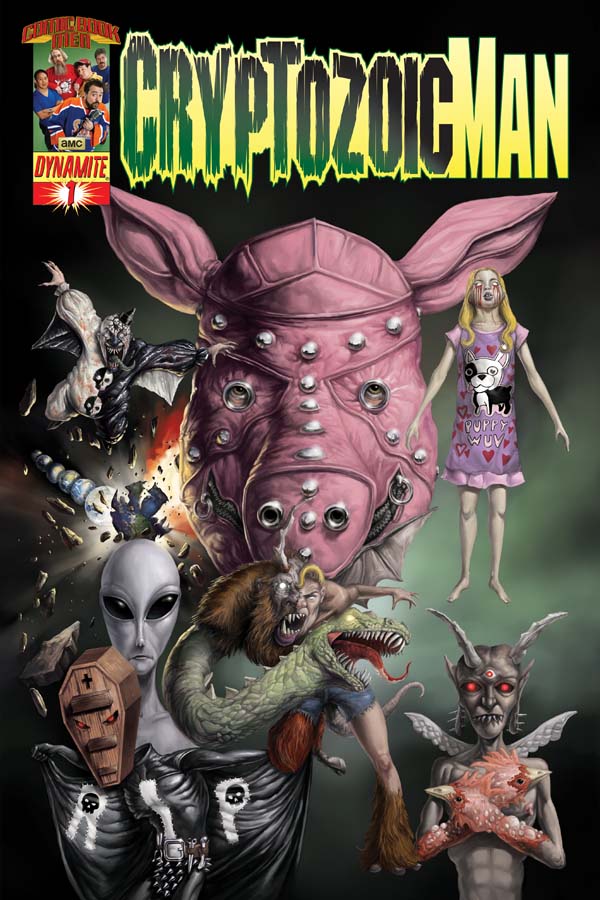 BGH: On the "Tell Em Steve Dave" podcast, you often bring up paranormal phenomenon. Why are you attracted to the paranormal?
WF: Paranormal subjects just provide so much fun, especially on a podcast. The mysteries and the uneasiness of the unexplained is something that has always fascinated me.
BGH: On "Comic Book Men", Bryan Johnson, your co-star and also the writer and co-creator of Cryptozoic Man, seems less influenced by comic books and horror comics growing up. You on the other hand, were an avid reader and fan of comics. What were your favorite books growing up, and which ones influenced your art style the most?
WF: I devoured countless comics as a kid. The ones that really hold a special place in my heart:
1. Werewolf by Night (1-43)
2. Swamp Thing (Alan Moore's entire run)
3. New Teen Titans (George Perez''s stuff)
4. Grimjack (the entire run)
5. Master of Kung Fu (I pray we will see a multiple hard cover collection of this entire brilliant series in my lifetime)
BGH:Tell us about colorist of Cryptozoic Man, Wayne Jansen.
WF: If you listen to the "Tell Em Steven Dave" podcast, you've heard me rave about him. Wayne and I came to work together on a TESD project called "Vinylcast" and after being blown away by his work on that project, I knew I wanted him to do the colors/ digital paints on "Cryptozoic Man". I really can't say enough about Wayne and his work. I just love it.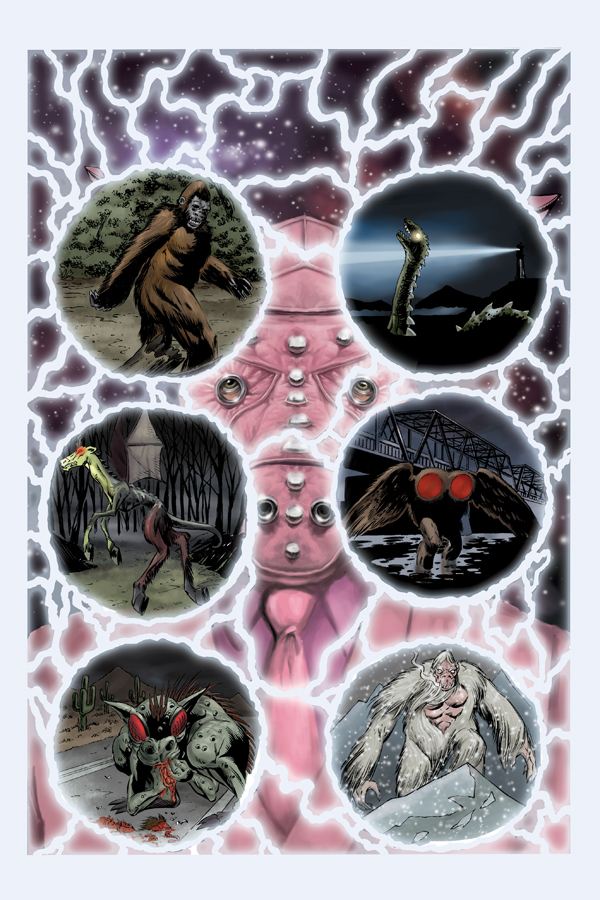 BGH: Who is your favorite horror comics artist, past and present?
WF: Wow, this is tough...so many brilliant artists....
1. Gene Colan (Tomb of Dracula; co-creator of Blade)
2. Stephen Bissete & John Totleben (the artists on Alan Moore's Swamp Thing run)
3. Don Perlin (Werewolf by Night)
4. Bernie Wrightson (co-creator of Swamp Thing)
5. Mike Mignola (Hellboy)
6. Mike Ploog (Werewolf by Night, Man-Thing, Ghost Rider)
BGH: Do you have any rituals or routines to get your creative juices flowing? Music you listen to or TV shows you have on the background, etc?
WF: I do both, sometimes at the same time. As far as music: Rob / White Zombie, Monster Magnet,Alice Cooper...TV: King of Queens, Everybody Loves Raymond and if it's hockey season... NJ Devils games.
BGH: What's the most prized horror comic in your collection?
WF: It's not worth a lot, but I treasure my full, near mint run of Haunt of Horror (a black and white magazine format comic published by Marvel in the 1970's). Some great stuff in there, especially that Gabrielle the Exorcist strip
BGH: Do you prefer illustrating for established superstar characters like Batman, or more personal characters that you co-created such as Cryptozoic Man?
WF: Drawing a character like Batman is a privilege. It was just a incredible feeling to work for DC comics on that series. Working on characters that are self created is a charge as well...I find both are as equally rewarding.