Friday the 13th IV - V - IV DVD Details
Word out of Paramount this week is that our next batch of "Friday the 13th" DVD's are on their way to your shelf! On June 16th, Paramount Home Entertainment will release "Friday the 13th: The Final Chapter", Friday the 13th Part V: A New Beginning" and "Friday the 13th Part VI: Jason Lives" on DVD. The disks will contain much of the same extra features as the previous round as well as new cover art along the lines of the last round of discs.
So what do you guys think? Are any of these new discs worth it? Or will you wait for the inevitable box set?
---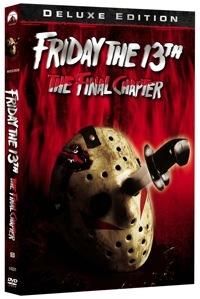 Features:
· Commentary by director Joe Zito, screenwriter Barney Cohen and editor Joel Goodman
· Fan commentary by Adam Green and Joe Lynch
· Lost Tales from Camp Blood – Part IV
· Slashed Scenes
· Jason's Unlucky Day: 25 Years After Friday the 13th The Final Chapter
· The Lost Ending
· The Crystal Lake Massacres Revisited Part I
· Jimmy's Dead Dance Moves
---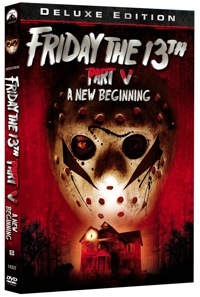 Features:
· Commentary by director/co-screenwriter Danny Steinmann and cast members
· Lost Tales from Camp Blood – Part V
· The Crystal Lake Massacres Revisited Part II
· New Beginnings: The Making of Friday the 13th Part V: A New Beginning
---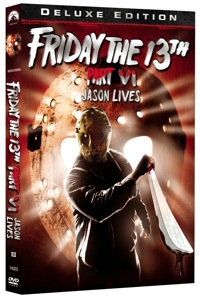 Features:
· Commentary by director Tom McLoughlin and cast members
· Lost Tales from Camp Blood – Part VI
· The Crystal Lake Massacres Revisited Part III
· Jason Lives: The Making of Friday the 13th Part VI: Jason Lives
· Meeting Mr. Voorhees
· Slashed Scenes