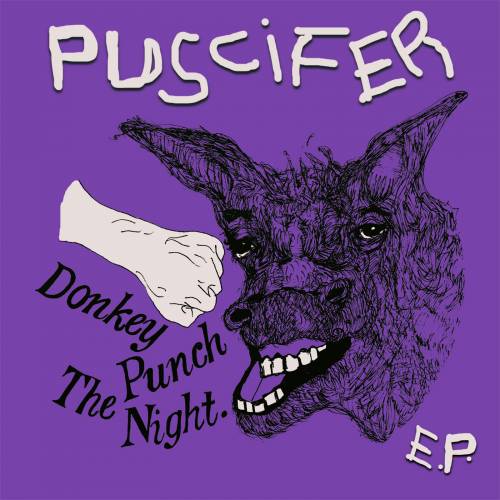 EP Review: Puscifer – "Donkey Punch the Night"
Fans of Tool have been anxiously anticipating a new record from the band band since "10,000 Days" was released in 2006. Fans of A Perfect Circle have been waiting even longer. Unfortunately for both groups, however, Maynard James Keenan just keeps having ideas for side projects and is perfectly content to let everyone wait.
In 2007, Keenan's latest side project, Puscifer, released their first full-length record with the incredibly classy title of "V is for Vagina." Since then, Puscifer has released one more studio record, a handful of EPs, and numerous remix albums. Although the project was never meant to be taken completely seriously, there is a certain level of ingenuity and experimentation heard on Puscifer's releases that would never make the cut for either Tool or A Perfect Circle. Considering the level of creativity heard on each Tool record, that's saying quite a bit, but Puscifer is never held to a single style or motif with their releases. As a band, they are an artistic outlet for ideas that are just a little bit too out there for mainstream success.
Anyone still skeptical about Puscifer's disregard for widespread popularity need look no further than the album cover, or title, for that matter, of their latest EP, "Donkey Punch the Night." A drawing of a donkey being punched by a floating fist that looks as though it was hastily created in Microsoft's Paint does not exactly scream Billboard's Hot 100, but then again, neither does a cover of Queen's "Bohemian Rhapsody;" a track that has been butchered by countless bar bands. What's surprising, however, is how faithful to the original Puscifer's cover is.
Looking back on Puscifer's past releases, one would assume a cover of "Bohemian Rhapsody" would be a strange, loose interpretation, but instead, Keenan and company opt for an almost exact recreation of the timeless classic. They even match the panning effect heard during the words "little high, little low." The harmonies are all spot on, the guitar tone is as close to a perfect match as you can get, and even though Maynard James Keenan is no Freddie Mercury, he finds a perfect blend of imitation and personality. In short, Puscifer have successfully covered a track that is, by many, considered un-coverable.
The remainder of "Donkey Punch the Night" is a lot more typical of what fans have come to expect from Puscifer. A second cover, this time of Accept's "Balls to the Wall," reinterprets the 1984 hit with Keenan's signature Tool vocals. Musically, Accept's chord progressions are maintained, but updated with a slightly darker edge that is much more bass-centric. Coupled with an all instrumental remix of the same song, "Balls to the Wall" takes up approximately thirty percent of the entire EP in name, but the two recordings are so different stylistically that most listeners would likely not even realize they share the same influence.
For most Puscifer fans, it really comes down to the new songs, of which there are two on "Donkey Punch the Night." The first selection, "Breathe," is as close to a new Tool track as fans will hear before at least this summer. The blend of male and female vocals provided by Keenan and Carina Round make for an oddly erotic and mysterious performance. There is as much of Massive Attack and Nine Inch Nails mixed into the cracks here, but Keenan's influence is easily the strongest. The elongated echoes and whispers swirling behind the mix quickly turns "Breathe" into the most captivating track on the record and a must hear for fans of any of Keenan's past work.
The remaining new single on this EP, "Dear Brother," is the most typical Puscifer song of the seven track release. Centered around a looped mosaic of bass, drums, and distorted guitar, Puscifer struts forward with an alluring groove and lyrics that include the phrase "donkey punch the night away." For anyone who has followed Puscifer from the beginning, this track alone is worth the price of the EP.
Although every Puscifer album is a mixed bag, "Donkey Punch the Night" might just be their most eclectic release to date. There's something for everyone here, but for anyone hoping to hear some new music from Tool in 2013, this EP is sure to ease your anxiety.