Drunktoberfest Week 4: Beers For Halloween
So October is coming to a close and Saturday you'll probably be out at a party dressed as a farm animal trying to get your swerve on with a hooker vampire. It's beautiful really. But what kind of beer will you be drinking? Here's a few suggestions that might help your liver get in the Halloween spirit with you.
Wachusett Brewing Company, Inc. - Green Monsta
Sure it's named after the giant green wall that Red Sox fans talk about like it's a family member but all bets are off on Halloween. Think of how fitting this would be if you actually went out dressed as a big green monster? Clever, huh! Plus at 7% ABV this strong ale is surprisingly drinkable so you can get a solid buzz going before "It's the Great Pumpkin, Charlie Brown" is over.
Brooklyn Brewery - Black Chocolate Stout
When I was a kid Halloween was all about candy. Truth be told by the time I was eight I couldn't give a rats ass what I went out dressed as. I really just wanted as much candy as I could get my chubby little hands on. But now that I'm an adult I can mix my love of chocolate with my love of beer. Now there's a lot of chocolate stouts out there but Brooklyn makes a pretty special one. The dark chocolate flavor is probably the best you'll find in a beer. It chalks in at 10% ABV so you can walk the kids around town and still stay warm.
Rogue Ales Brewery - Dead Guy Ale
Because it's got a freakin skeleton on the label and it's called Dead Guy Ale. You shouldn't need any other reason than that. Also because I was starting to get a little worried that people might get the wrong impression if I only suggested beers with high alcohol content. Ok so this one is still higher then your average Bud but it's got a big malt flavor with a decent amount of hop character so the extra little kick is worth the big flavor.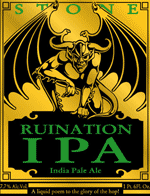 Stone Brewing Company - Ruination IPA
Really you could probably pick just about anything from Stone and look like a bad ass strutting around with a giant devil on the bottle but this one is a personal favorite of mine. An imperial IPA that gives a ton of hop aroma and flavor without giving off a strong alcohol flavor. Stone has built a large following by making big flavorful ales and this one is a perfect example of what they can do. Want to take it to the next level? Nothing says "I'll punch your kid in the face for his candy" like sporting a big bottle of their Arrogant Bastard.