Concert Review: Rockstar Energy Drink Mayhem Festival – The Main Stage
Asking Alexandria was technically asked to open the main stage, but in reality, they were ex post facto to Anthrax, and began performing as soon as the veteran band had finished. As such, double A (not Arn Anderson,) was forced to deal with the nearly impossible task of playing to a transitory audience. They had completed "Welcome," and were through a good portion of "Closure" before the bulk of the crowd moving from one stage to another had even had their tickets checked. Singer Danny Worsnop did his best to try and buy time by talking to the audience, the only such singer to do so all day. But in the end, it seemed inevitable that his words would fall on deaf ears as concert goers bustled about finding their seats, journeying to get a beer, and generally commiserating about how awesome the bands that came after would be. Several patrons around me commented on how Asking Alexandria's set was mediocre, but it hardly seems a fair judgment given that they didn't see the whole performance. (As it was, if I hadn't had access to the set times and made my way to the back of the crowd during "I am the Law," I might have missed a sizable chunk of double A myself.) To their credit, the Brits gritted it out, and even gave the crowd a solidly rocking, emotional performance of "Dear Insanity." When you're at Mayhem Fest and watching Anthrax, remember to cut Asking Alexandria a break. They've been given a tough road to hoe.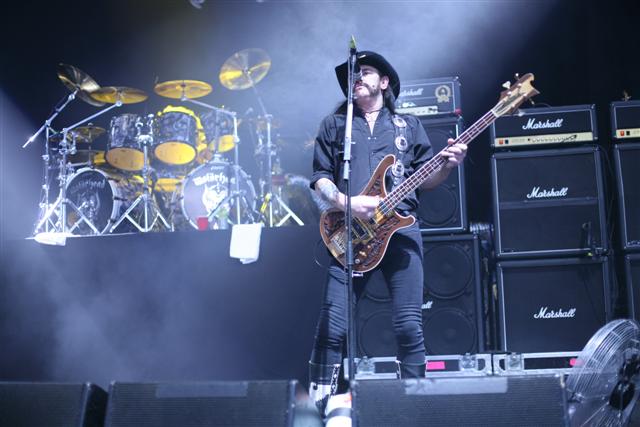 Motörhead. The name in itself is practically a description of their entire live set. Formed originally in 1975, the band has been delivering top-notch rock and roll (Lemmy never calls them metal,) every year since. They are, in a single, all-encompassing word, unchanging. Lemmy strode to the microphone as he has practically his entire adult life, uttered the word "Bomber," and the set was off and running. Lemmy's Rickenbacker bass is more or less an extension of his being at this point, and he plays with the confidence of a man who has never second-guessed a decision in his entire life. His stage presence contains very little swagger, and to that end, possesses the most swagger of all. He is simply Lemmy, whether leading his talented band through "Killed By Death," or "Going to Brazil." The set list, not so different from Anthrax's, is a running litany of fan favorites, with "Damage Case" and "Stay Clean" and naturally, "Ace of Spades." The set was highlighted by the equally predictable but always enjoyable drum solo of Mikkey Dee. It's often easy for these displays to get caught up in themselves, but Dee always treads the line between showing off technically and entertaining those who understand only the basest but most critical element of music; that they enjoy it. As the set reached its inevitable conclusion with "Overkill," Lemmy said something curious. He announced to the crowd "We are Motörhead, please don't forget us." It seemed an out-of-place moment of vulnerability for one of the invincible fathers of metal (whether he will admit his status as such or not.) Lemmy, on the off chance that you're reading this, I can respond only with this: With everything you've done for music, and as your band is closer to their fortieth anniversary than their thirtieth, how could we forget you?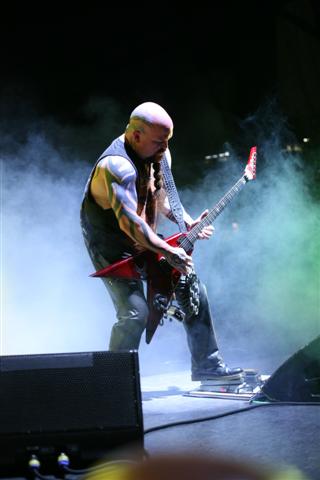 If Motörhead is unchanging, then Slayer is simply uncompromising, which is similar but not the same thing. Whereas Motörhead goes about their business without being concerned what people think of them, Slayer makes it their business to let people know they are still Slayer. Everything with Slayer is full-bore, to-the-wall mayhem (no pun intended,) with little room to breathe. Let me get the one bad thing out of the way first; Slayer again took the time to play "Dead Skin Mask," the closest thing they've ever written to a ballad, but not even close to being the best song on "Seasons in the Abyss," let alone their whole catalogue. I don't understand why fans clamor for this tune so much. Additionally, there was an absence of pyro, and no one seemed to know why. Oh well, no huge loss.
Okay, moving on to good stuff. I'm laying down the gauntlet, right now. Dave Lombardo is the best drummer alive. There are other people you can bring into the conversation, but there is no way you can prove that those people are definitively better than Lombardo. Pushing hard into his clear drum kit (perhaps a statement about not using drum triggers and having nothing to hide?) Lombardo's pedals are absolutely a blur, his rolls and fills are compact and explosive, and he can play seemingly without end for an entire night. It speaks to his talent that all these years later, the man still gives the fans that little something extra in his live performance, like the double kicked opening to "Raining Blood." Best. Drummer. Alive.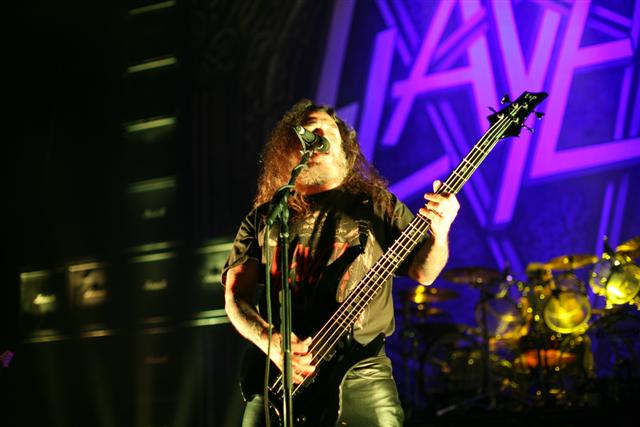 Slayer as a band was sharp on this night, continuing their resurgence in recent years. The band looks as good and plays as tight as they ever have, totally annihilating all of their song selections and producing so much pure thrash volume that it'll make your heart skip. "Angel of Death" remains a show-stopping single no matter where and when they play it, and the insertion of older cuts like "Mandatory Suicide" and especially the often overlooked "Jesus Saves," demonstrates the band's level of dedication to craft.
It's interesting to watch Gary Holt as he continues to fill in for Jeff Hanneman. Holt is a man who has had a proud and accomplished career of his own with Exodus, but he still seems like a kid who gets the chance to play with his heroes when on stage with Slayer. The fact that he can rip the "Angel of Death" solo with aplomb is nearly secondary to the unbridled enthusiasm he brings to tracks like "Seasons in the Abyss," practically giving himself whiplash through headbanging. His energy more than meets the fans' expectations and makes him feel like a proper fit for Slayer. They were dynamite on this night, stealing the show from…
…Slipknot. This tour was surrounded by buzz about what Slipknot may or may not be in the wake of Paul Gray's death. Corey Taylor's uncertainty about returning to the band and recording new material made everyone wonder what Slipknot would look like going forward. The announcement concerning the release of "Antennas to Hell," the band's new greatest hits album, not only gave them a reason to hit the road again, but also served as a reminder than everything Slipknot does from here out is going to be a new chapter.
The band arrived on stage with only eight members, opting not to replace their departed founder and friend. They appeared on a huge stage set, flanked on both side by their trademark percussion rigs, and with a single pyrotechnic flash, they were launched into "(sic)" and "Eyeless." Unfortunately, the triplicate drum sets were so thick with reverb that it was tough to discern what the hell was actually going on. Those who were not as familiar with the band's songs would have had a tough time finding the rhythm in pieces they didn't know.
Additionally, the stage show itself left a lot on the table. Slipknot relies heavily on the mythos of their masked personas, which grant them an automatic air of cool, stylized detachment. Still, they fail to take the next step and truly engage the audience beyond being a band that wears masks and uses some gimmicky instrumentation. Placed into a stage setting so large that it rivals Iron Maiden's, the band seemed content to stay in place, barely exploring the boundaries of the stage and not employing any particularly amazing resources in lighting or pyro. The stage show essentially boiled down, at least on this night, to band members throwing debris at each other and at least once, grabbing each others' genitals.
Now, I have to give credit where credit is due. Taylor himself commands the audience pretty well. He leans out from the stage, over the throngs, and gives the impression that he wants the masses involved in his show. As a result of his charisma, he corralled a lot of audience support for the highlight of Slipknot's set, a powerful and thunderous "Before I Forget." That was as good as it got for Slipknot.
Said and done, the Mayhem Fest is a necessary piece of heavy metal culture. A yearly affirmation of faith, and a constant reminder that yes, good metal can come to your neighborhood.
To follow along with the Mayhem, scope this link from Day One, and keep watching.