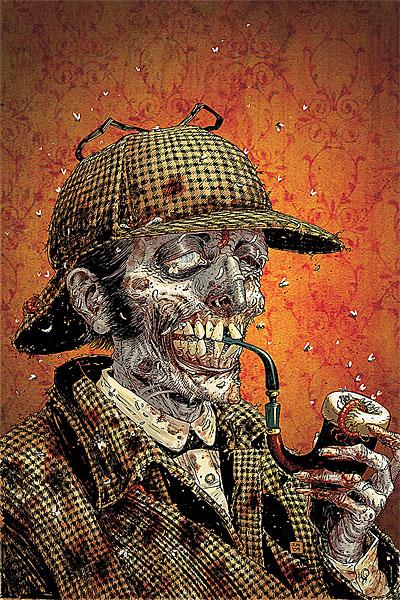 Have you found yourself lately, sitting about in your smoking jacket and ascot thinking "by jove, I wish there was more of a plethora of zombies in my sequentially drawn art stories"? Probably not. But just in case you have, you're in luck with Wildstorm comics newest series, "Victorian Undead"!
"Once you eliminate the impossible, whatever remains, no matter how improbable, must be the truth." Those are the words of Mr. Sherlock Holmes, the world's first consulting detective, yet even he finds his skills tested to their limit as he and his erstwhile comrade Dr. John Watson are confronted with the most extraordinary case of their career – the dead are returning to life! Can a plague of Biblical proportions be far behind for Victorian London? And who – or what – is behind the resurrection of these ravenous revenants?
You read that right; Sherlock Holmes Vs. Zombies! A dash of wisecracking detective, a touch of steam punk and a sprinkling of the undead. I received the first two issues of this new Ian Edginton penned book recently. At first I looked upon the book with a bit of trepidation; it's kind of hard to match up to the likes of Sir Arthur Conan Doyle. But guess what? Edginton pulls it off, and he pulls it off really well! I will warn you; you do not get the full breadth of the writing involved here in the first issue. As most "firsts" go, the book is dedicated to introductions to characters and villains but it is still catchy enough to draw interest. Stick with it through issue number two however and you'll find that the classic Holmes and Watson and captured rather well. There's plenty of wry humor, some good tension and a heaping helping of intrigue. Enough to capture any story lovers heart.
I'm not so much of an artwork kind of guy. I'm into comics primarily for the story. The artwork is nice and does help, but unless it is jarringly bad I don't look at it too closely. For "Victorian Undead" however, the art by Davide Fabbri is actually pretty great. It stands out enough to draw my attention without over shadowing the story and does an excellent job to highly the antics of Holmes and Watson and their misadventures.
The story is still in the early stages as book three is not due out until January 23rd, so there is plenty of time to grab yourself a copy at shops pretty much everywhere. Each issue weighs in at around 32 full color pages and should set you back around $2.99. For the fine details, be sure to check out "Victorian Undead" at the official Wildstorm page or check out the tidbits over at Wildstorm's blog, The Bleed!