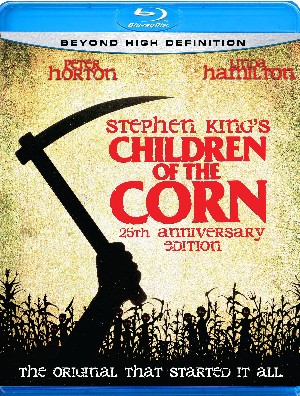 "Children of the Corn" Bluray Specs
Coming June 25th from Anchor Bay, Stephen King's "Children of the Corn" on BluRay. I'm not sure this film has a lot of die-hard fans, but as a king joint I know some of you hold it close to your hearts. There was a recent Special Edition on regular old DVD, and this new Hi-Def disc includes all that material plus more.
From the press release:
In 1984, a film adaptation of a chilling short story by horror master Stephen King terrified audiences and launched a film franchise that continues to this very day. Now, to celebrate the 25th Anniversary of a classic and just in time to welcome the upcoming remake, Anchor Bay Entertainment announces the July 28th release of the original Children of the Corn on Blu-ray! Not only will fans see and hear this '80s shocker classic like never before, this Blu-ray edition contains all the supplements from the previous DiviMax™ DVD, as well as nearly an hour of newly-produced high-definition bonus features, with all-new, never-before-seen interviews with the cast and crew – created exclusively for this release! SRP is $29.97, and pre-book is June 25th.
The juicer features include:
* Audio commentary with director Fritz Kiersch, producer Terrence Kirby and actors John Franklin & Courtney Gains
* NEW "It Was The Eighties!" (HD) -- Linda Hamilton talks about working on the film, offering great behind-the-scenes stories about the cast and crew
* NEW "Stephen King on a Shoestring" (HD) – All-New interview with Producer Donald Borchers.
* NEW "Welcome to Gatlin: The Sights and Sounds of Children of the Corn" (HD) – Interview with Production Designer Craig Stearns and Composer Jonathan Elias
* "Harvesting Horror: The Making of Children of the Corn" (SD)
While you wait for this release in June, I would highly recommend Jon Schnaars' take on the film, which can be found below.