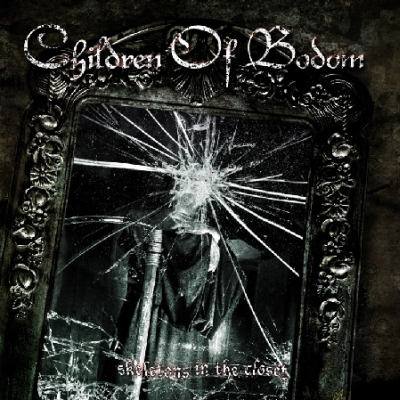 Children of Bodom - "Skeletons In The Closet" Review
Children of Bodom's covers album is both a tribute to artists the band loves, and a tongue-in-cheek mockery of artists they love to hate.
Unlike many of their Scandinavian brethren, Children of Bodom has an obvious sense of humor regarding their particular brand of black metal, and that sense shines through on "Skeletons in the Closet."
Most of the tracks have been released in other places over the years, but it's nice to have them all bundled in to one handy compendium. It's far easier than trying to track down the various bootlegs, EP's, and foreign editions that it would take to accumulate the same collection.
As one might expect, some of the covers work better than others. Most of the tracks that work, like "Aces High," are the songs where Children of Bodom can add their own individual flair to a piece and make it bigger and bolder. In "Aces High," the band took what was already a metal anthem, sped it up, added more sheer noise, and left their indellible stamp on the face of it.
The other half of the album is songs that don't work, either because the song is too far removed from any kind of metal styling to be adpated, or because there's nothing that the band could really add to the song. For the former, Kenny Rogers' "Just Dropped In (To See What Condition My Condition Was In,)" has so little to do with anything relating to Children of Bodom that the cover feels forced. For the latter case, a song like Slayer's "Silent Scream" was already loud, brash, and over the top. The cover is very good, but is too similar to the original. Same goes for Sepultura's "Mass Hypnosis."
On the whole though, I find the album thoroughly enjoyable, both for the right reasons, and the wrong ones. I love their version of CCR's "Lookin' Out My Backdoor," the humor of their cover of King Diamond's "Waiting," and the bolder, nastier sound of WASP's "Hellion." "Aces High" practically makes the album worth the price of admission all on its own.
As for the previously unreleased stuff, the keyboard-infused "Antisocial" is a great twist on the Anthrax classic, and the inclusion of Suicidal Tendencies' "War Inside My Head," was a pleasant surprise.
There's a lot of good here, especially if you don't take it too seriously.