Burton's "Alice..." Stills are Giving me Nightmares
Even if you hadn't heard about the movie previously, would you really blink if I told you that Tim Burton is directing a re-imagination of "Alice in Wonderland" with Johnny Depp and Helena Bonham Carter in starring roles? Of course you wouldn't. Although many people are getting sick of Burton's creepy power couple, it seems that he's got a couple of tricks up his sleeve to keep things fresh, mainly using CGI to augment and distort live action, a technique which has come into use recently with action films, but hasn't been stretched (no pun intended) to this level before.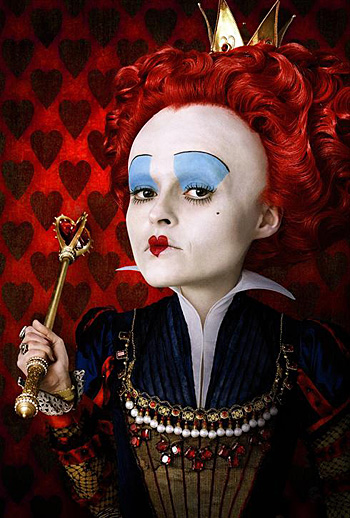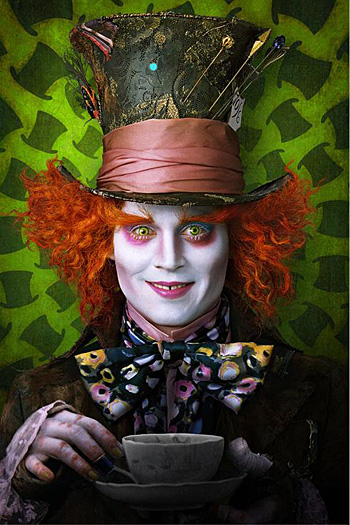 These two shots (and one boring one of Anne Hathaway at the source link) are just the tip of the iceberg, as live actors will also be playing The White Rabbit (Michael Sheen), The Caterpillar (Alan Rickman), The Cheshire Cat (Stephen Fry), and so on. I'm really curious to see these characters in motion, mostly because if these stills keep staring at me like that I might just have to claw my eyes out. Either way, It's been a really long time since there has been a mainstream animated (or psuedo-animated) "drug" film, and although I love all things Pixar, it's about goddamn time that someone uses the medium for something other than cutesy talking animal flicks. "Alice in Wonderland," will also be in 3D for additional mind-fucking, and as someone that loved Sweeny Todd, I'm certainly not averse to a little cerebral shagging.
Sources:
First Photos from Tim Burton's Alice in Wonderland Starring Johnny Depp, Helena Bonham Carter and Anne Hathaway, First look: What a weird 'Wonderland' Burton's made