Box Office Special - "Paranormal Activity" Goes Large
Last week we tracked the "Paranormal Activity" breakout story as it began. This week we reach the second chapter.
With it's "wide" release in the books, the indie powerhouse narrative shows no signs of slowing. With a total just over $20 million, good for third place on the weekend, "Paranormal Activity" has now tallied over $33 million. While the $44k that the film took in per venue last weekend was impressive, this weekend's per venue numbers are almost more astounding. Having been pushed to 760 venues, "Activity" did $26,530 per. To put that in perspective, the best per venue performance by a wide horror release this year was by "Friday the 13th," which did roughly $13k per venue -- or about half of "Activity's" action.
While the film has been on a hell of a ride, it's still got a huge hill to climb to enter the "Blair Witch" discussion. That being said, it would have been very interesting to see what "Activity" might have brought in if Paramount had matched "Blair Witch's" release size of 2,500. While "Blair Witch" never truly had a blow-out weekend, it did end up with a long shelf life -- posting three weeks over $14 million and nine straight weeks over $1 million.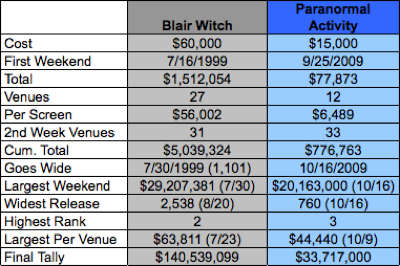 It might not be as sexy a storyline, but there was another horror release this week. "The Stepfather," the PG-13 remake of the 80s slasher, opened with just over $12 million. Maybe not a huge sum, but $12 million is definitely a nice win for Sony/Screen Gems. After films like "Sorority Row," "Perfect Getaway," and "Jennifer's Body" opened well below $10 million, it's a fair to wonder if fans were getting a little tired of these hapless looking retreads. But this frisky opening probably gives some productions still up for debate a shot in the arm. It also probably didn't hurt that after 10 straight R-rated horror/genre openings, "Stepfather" toned things down enough to get the PG-13 crowd in there.
It feels like it's snuck up on us a little bit, but we're now staring down the barrel of "Saw VI." Stay tuned for the BloodyGoodHorror review, but don't be afraid to unload (or embrace) the series in the comments.