Box Office Special - Halfway Home
This weekend was the 26th out of 52 for 2008. And now that we're halfway to 2009, it's time to make some observations about the slate of horror films that have been offered up thus far.
First though, let's get this week out of the way: "Wall-E" won, and performed solidly compared to what "Ratatouille" did in much the same situation last year. Some folks have been worrying about the ceiling on "Wall-E," which seems valid, but this performance should assuage any concerns on the part of Disney. They can pretty much kick back and cash their DVD/video game/cross-promotion checks starting today.
"Wanted" placed second, and interestingly had the second largest opening weekend gross of any film to not open at #1. While the movie was pretty mediocre, everyone involved should be pretty pleased. I fully expect "Wanted" to clean up overseas.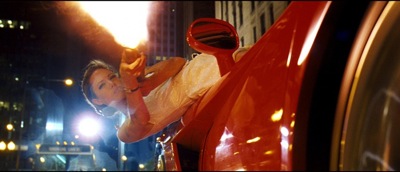 The two remaining horror films in the theater, "The Strangers" and "The Happening," continued to fall, in this their 5th and 3rd weeks in release respectively. When taken in context with the rest of the 2008 horror crop, both films prove to be pretty solid success stories. At nearly $52 million, "The Strangers" has brought in well over five times its production budget. "The Happening," which has only broken even in domestic gross at this point, has actually performed very well overseas, which demonstrates horror's potential outside of the U.S.
The question of horror's international success isn't something that I've taken up thus far in the Box Office Special, but this week I went back and added all the world wide business data to the Horrors of 2008 spreadsheet. So now, we can see that through the halfway point of 2008, "Cloverfield" has been not only the U.S. standard bearer from a business perspective, but it has crushed foreign box office as well. Totaling $170 million on a $25 million budget is a feat achieved only rarely. "The Strangers" has yet to really see any international exposure, so really the sky's the limit in terms of world wide return on investment there.
What's harder to gauge is the performance thus far of two distinctly American horror movies: "Prom Night" and "The Ruins." Neither has done much business overseas, and while both have opened in most European countries, neither has any scheduled release dates in Japan, Thailand, or other Asian countries where U.S. horror might fare well. What's interesting is that distributors are likely having trouble deciding how to market both of these films" "Prom Night" because it deals with a very American rite of passage, the prom, and "The Ruins" because it is largely a film about Americans in a very un-American place. It's also unclear how much of an effort was even put into promoting these films overseas, which is why it's hard to speculate about foreign box office results.
(Aside: IMDB actually has a great feature that I've never noticed, which is the "AKA" section of the release dates page. Here they list the alternate titles that the films are being released under in other countries. "The Ruins" isn't that great, except for "Ruiny," but "Prom Night" has several strong candidates including Brazil's "A Morte Convida para Dançar" (Death Calls for Dancing), Italy's "Che la fine abbia inizio" (What the End Begins), and Venezuela's "Noche de graduación sangrienta" (Bloody Graduation Night).)
Looking back on the first six months of 2008, we can say some things: for all the hoopla over R-Rated and PG-13 horror, the two have performed relatively similarly, with R-films averaging $39 million domestically to PG-13 films' $42 million. Overall, the average horror film has made $40 million domestically on a budget of just under $26 million, although the average gross is skewed by "Cloverfield's" $80 mil and the average budget is skewed by "The Happening's" $60 million. Through the halfway point, it's important to note that horror has had only only out and out flop in "The Ruins," a movie that I didn't love, but that some around these parts defended on our podcast. With stuff like "X-Files," and possibly "Meat Train" and "Mandy Lane" coming down the pipe in 2008 part 2, it should be a fun ride the rest of the way for horror fans.