Box Office Special - Audiences Fail to See Genius of "Guru"
In a shocking (SHOCKING!) development, "The Love Guru" died a quiet, merciful death in theaters around the country. Proving—perhaps miraculously—that the average moviegoer does have a threshold for cinematic putridity, audiences managed to contain their enthusiasm for goofy voices and the most egregious of non-sequitors, all of which may send "funny-man" Mike Myers back into another five year hibernation (his last actual on-screen appearance was in 2003's "Cat in the Hat"). In its opening weekend, "Guru" placed a distant fourth with $14 million, or less than a quarter of its production budget. Of course, anyone who had read the reviews will not be surprised.
Now that I've gotten my schadenfreude out of the way for this week, let's move quickly to films that didn't embarrass themselves. Steve Carrell and Anne Hathaway took home top honors this weekend, as "Get Smart" did just a shade under $40 million at the box. It's a nice figure, and it's hard to knock 1st place, but this has to be something of a disappointment. The film brought in less than half its production budget (barely, but still) of $80 mil, and the TV show reboot marks the 2nd high profile Carrell vehicle to underwhelm (to say that "Evan Almighty" only underwhelmed is generous in my opinion). The fact that "Get Smart" faced less than robust competition in the form of "Guru," "Happening," "Zohan," "Hulk," and "Kung Fu Panda," speaks volumes about where the audience is at in terms of getting the kind of options they want right now at the theater. "Panda," which pulled a second consecutive runner-up finish, might be the real winner this week as it shows that the concept definitely has some legs.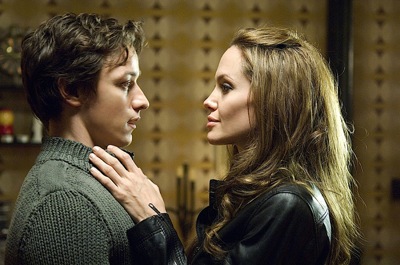 The theme next week will be change, and lots of it. Pixar drops its yearly diamond into theaters alongside a real-live, R-rated, high concept action flick, and I fully expect that double-barreled onslaught to dislodged the collected stink of mediocrity from the top of the chart. Any Pixar offering ranks among the most anticipated films of any year, and "Wall-E" is certainly no exception. Similarly, a scantily clad, heavily armed Angelina Jolie should do wonders in drawing the crowds to "Wanted," the comic book adaptation being helmed by Kazakhstan's answer to the Wachowski Brothers. Genre fans likely know Timur Bekmambetov from his previous work on "Night Watch" and "Day Watch," the first two parts of a Russian action-horror trilogy. From what we've seen in the previews, "Wanted" looks to fall very much in line with Bekmambetov's work on those films, which means there's plenty of eye candy to keep audiences stimulated.
Anything less than top billing for "Wall-E" will be a shock to Disney, as no Pixar film has not hit #1. "Wanted," with all its star power and over-the-top action, would also be something of a shock if it didn't put up a solid performance. I fully expect both these films to help audiences cleanse their palette of what was one of the lower-lights of 2008 thus far.
In horror news, "The Happening" fell from 3rd to 5th, but continued to perform capably, and is already the 2nd most profitable (from a BO gross perspective) film in the genre this year. It's unlikely, but M. Night's less than stellar offering has an outside shot at taking down "Cloverfield" for horror's top spot. "The Strangers" held on to a spot in the top 10 in its fourth weekend, but looks to be on life support. Track all the action at the updated Horrors of 2008 spreadsheet.