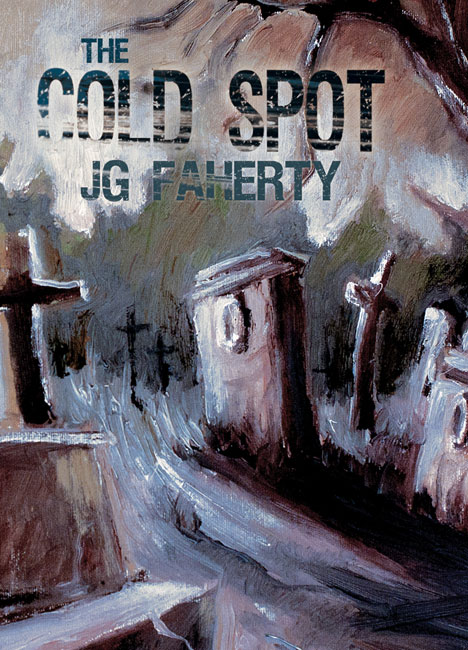 Book Review: The Gold Spot by JG Faherty
The pains of adolescence are well known by everyone. The struggle to find one's self and be accepted by their peers is usually one of the most harrowing events in growing up. JG Faherty's, The Cold Spot, illustrates the vulnerability of youth and the manipulation of death with unnerving detail and motivation.
After the untimely death of his family and dog in a house fire, Clay Daniels is forced to immediately move into his aunt and uncle's house to endure their brutish and crass behavior. Already familiar with daily taunting because of facial birthmark, Clay skips out on school and his new home to find somewhere he can be himself. While seeking refuge in the fields behind his house, Clay is startled by a ghost name John. Terrified at first, Clay refuses John's offer to hang out with him and his friends. Eventually, after a midnight visit with his group of friends and a few beers, John convinces Clay to hang out in the woods at "the cold spot." Realizing that John and his crowd are outcasts like himself, who treat Clay like an actual friend; he begins to feel accepted. With his newly established confidence and his new paranormal friends watching his back, Clay feels on top of the world, until everything starts falling apart.
Faherty reintroduces one of the oldest horror stereotypes with gut-wrenching honesty. The youthful naivety in the search for acceptance is fully detailed in Clay's derailing. Turning to something he doesn't fully understand- Clay is thrown into a whirlwind of uncertainty and terror. The ghosts in The Cold Spot, are convincing characters, as is Clay, in his despondent isolation. The characters are the driving force behind the story, as the reader, you become invested in Clay's acceptance both individually and socially. However, just because something is dead, doesn't mean it's exactly as it seems. The twist at the end of the book is worth any time it takes to read. Cleanly executed, Faherty hits you with the one-two, and leaves you clutching your gut not only from the shock but also the bit of raw violence and gore.