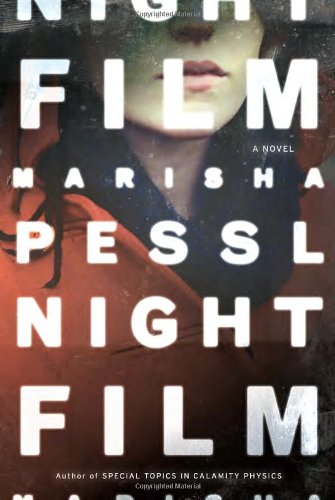 Book Review: Night Film by Marisha Pessl
Not since way back in 2006 – when I stumbled onto Mark Danielewski's House of Leaves – have I been so engrossed by the world of a book as I was by Marisha Pessl's Night Film. Now, I'm not saying it's as arrestingly visual, intricately woven, or labyrinthine as Leaves, but it's still an expertly crafted neo noir tale of mystery and death. Had the mighty Alfred Hitchcock tried his hand at the written word, he might've given us something akin to Night Film.
The book mainly tells the story of Scott McGrath, a divorced father and failed journalist who found himself on the wrong end of the pen after accusing (in)famously reclusive horror director Stanislas Cordova of violence and gross misconduct. Five years after his public lawsuit with the director, McGrath has yet to revive his devastated career … until late one night at a holiday party, he catches a break. Cordova's only daughter was found dead in an abandoned building in the slums of the city.
Ashley Cordova, a beautiful and talented pianist on the rise, died amidst strange, shrouded circumstances, much like she and her father both lived. Though reported as a suicide by the police, McGrath believes differently and sees an opportunity to turn his career – and his life – around. If he can prove Ashley was murdered, he can in some way substantiate the claims he levied against Stanislas many years ago. Reconnecting himself to the Cordova family, however, McGrath once again sets himself on a harrowing path of intrigue, dread and danger.
Pessl effortlessly balances an atmosphere of dread with empathetic character development. Though it takes a while to empathize with McGrath's seemingly self-absorbed thirst for the truth, Pessl's supporting characters help carry the plot even without dialogue. The secondhand accounts of Ashley Cordova and her family are obfuscated and inconsistent, only deepening their complex authenticity. Most interestingly, Stanislas Cordova embodies the "Auteur of the Bizarre" archetype creative types have come to worship: Pessl shakes a deadly cocktail of Kubrick, Polanski and Lynch to pour into a larger-than-life being who is relentlessly sought after and inspires clandestine conferences of admirers. Watching McGrath and his piecemeal accomplices uncover the crime reads a good bit like Stieg Larsson's Girl with the Dragon Tattoo, but with more references to the dark arts and the supernatural.
With more than 600 pages, Night Film is no quick read, so be prepared to lose the next few days poring over every page. Noteworthy visual additions to the book include several case file pages and photographs for creep factor. The gusto of this book's world extends to the web. After reading, you can follow the book's website and mobile app when visual clues are provided. I didn't even check those out until after reading the book, so it's best thought of as a cherry on top, helping to ease the pain of finishing the book and not knowing what to do next with yourself.


Rating 4.5 out of 5


P.S.
Good or bad news, depending on how you feel about adaptations: Night Film is currently in talks to be a movie.