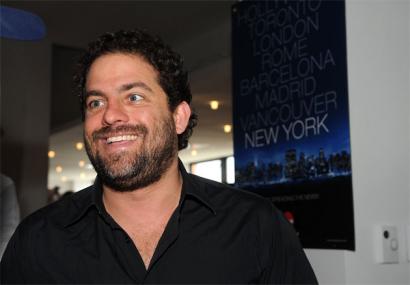 Between a Rock and a Hardwicke
If you're like me, you've not only caught TWILIGHT fever, but also TWILIGHT chills, TWILIGHT throat polyps and TWILIGHT cholera. Yep, I'm dying of TWILIGHT-AIDS and thank God there's no cure! Being such a huge fan, when I'm not writing TWILIGHT hardcore gay slash fan-fic, I'm following every little bit of TWILIGHT news...wait...no, I can't do this. I tried, and I can't.
I was really wanting to carry this oh-so-comedic ruse of being a lame TWILIGHT fan all the way through this piece, but I just can't do it. What if someone takes me seriously? What if someone reading this really thinks that I am into effeminate, and, even worse, abstinent vampires? It wouldn't be the end of the world, but it would be pretty damn close. It'd be one step away from those fey assholes who love, ugh, Anne Rice.
To be fair though, you don't have to be a TWILIGHTaholic to know that horribly marginal director Catherine Hardwicke was recently "let go" from her job as the force behind the burgeoning franchise. Everyone has heard this by now. But, for a real hearty helping of belly-laughs, go to any of the TWILIGHT-related message boards and spend a good twenty minutes reading the angry missives about the firing and, even better, the ridiculous fears of who they think the studio will replace her with. You can almost picture them crying at their keyboards, only stopping every few seconds to scarf a bag of Funyuns and cut their inner thigh.
Personally, I'm actually excited about who the producers might choose. I practically have got my Hot Topic gift certificate ready to go, just to buy the shirt. Not only will the wrong director be the final nail in the, ahem, coffin for the franchise, but, for us non-fans, it'll provide MST3K-styled entertainment for years to come. And here's a couple of "wrong" directors who just might be able to pull it off...
---
BRETT RATNER
: Oh sure, TWILIGHT's stupidity level was so high that even someone like frat-director Ratner couldn't even touch it, but you know what TWILIGHT was really missing? Big-tittied chicks! I'm sure the first thing Ratner would do is replace sunken chest Kristen Stewart, who "plays" Bella, with a Victoria's Secret model wanting to break into acting, maybe a Marisa Miller. As for young, vampiric Edward, I'm thinking Chris Tucker. "Don't you ever touch a Dracula's radio, muthafucka!"
---
JOEL SCHUMACHER
: As gay as TWILIGHT is—oh, and is it gay—there's always room to get it just a little bit gayer. How? Hire that all-purpose gay-all Joel "Batman Nipples" Schumacher. He's done the vampire thing before, having directed both THE LOST BOYS and Gary Busey in DC CAB, so you know he's got the chops. More importantly, he'll add a much-needed chain-belted saxophone-playing muscled vampire. Maybe a whole army of them! I just don't buy the idea of a vampire clan without a sax-blowing member...wait, that came out wrong...
---
TYLER PERRY
: If you don't believe me you can look this up, but I have always said that most movies would be better if the main character was a sassy African-American matriarch, played by a desexualized black man in a fat suit and drag. And since Martin Lawrence refuses to make BIG MOMMA'S TWILIGHT, we've got Tyler Perry as our go-to guy. Girl. Guy? The story: Bella, depressed after her last escapade with the vampires, moves to the city, gets hooked on crack, catches her man cheating on her with a younger woman and has her kids taken away by DHS. Wanting to get her life together, she moves down South and in with the tell-it-like-it-is Madea, who, consequently, has become a vampire. "I can do vampire all by myself!" will be her new catchphrase.
---
JOSS WHEDON
: Self-proclaimed male feminist and total pussy Whedon made his living exploiting—yes, exploiting, and quite insincerely, at that—"strong" female characters with his way-overrated BUFFY THE VAMPIRE SLAYER series, creating a squee-inducing fandom that is even more annoying than the TWILIGHTers could ever hope to be. Yes, it is possible. Maybe Joss could turn Bella into a "strong" vampire killer—a slayer, if you will—adding at least something somewhat interesting into this tripe. At least that whole Buffy/Spike bullshit had some fucking in it. (It did, right? I don't know, I didn't watch that white shit. Keepin' it real!)
---
JASON FRIEDBERG and AARON SELTZER
: There are probably hundreds—nay, thousands—of screenwriters and directors out there, artists with real talent and vision, just itching to get their first real Hollywood big break. But, instead, Hollywood keeps backing up trucks of money at the front-door of these two douchebags, better known as "those two unfunny assholes who made EPIC MOVIE, MEET THE SPARTANS and DISASTER MOVIE, among others". No, seriously—that's what it says on their business cards. If hired, within twenty minutes, they'd have the screenplay to their sequel, entitled GAY TEEN VAMPIRE MOVIE, and instead of being a literal sequel, it'll be 80-odd minutes of Bella and Edward dealing with characters from movies released in the past three months, like probably James Bond and those kids from HIGH SCHOOL MUSICAL, only with copious amounts of farting and Dr. Phil cameos. Opening weekend prediction: $40 million, with a healthy DVD profit.
---
JESS FRANCO
: I know this is a total longshot, but hey, why not Jess Franco? If there's one thing I'm sure he can deliver, it's a vampire's big black dong, something that I'm sure the ultra-repressed Mormon author of the novels, Stephanie Meyer, secretly craves.
Besides, I think Lina Romay would make a great Bella, right guys? Right?