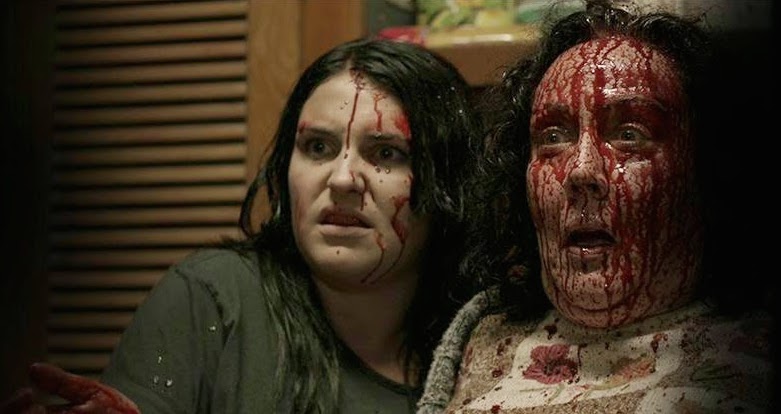 Best of 2014: Sophie's Take
(Editor's note: Over the rest of this week and next we'll be rolling out our staff picks for the best in horror from 2014, leading up to the official BGH Best of 2014 list and the Year in Review podcast. Enjoy!)
The Best
1. Honeymoon - First film for female director Leigh Janiak. This film is simplistic in its effects, but really packs a punch with an original story and some truly haunting visuals.
2. The Babadook - This was the year of female horror directors! Jennifer Kent is another woman making a huge splash in 2014 with her debut film. All you have to do is see the trailer to know this is going to be good!
3. Blue Ruin - Plays out more like a revenge thriller, but this movie is too well done to not make the top three. This film is dark and subversive in a way is wholly mesmerizing.
4. Cheap Thrills - Dark and twisted doesn't even begin to cover Cheap Thrills. This movie will make you laugh, gasp, and gag, probably in quick succession. David Koechner is absolutely spectacular.
5. Housebound - A near-flawless New Zealand horror comedy that has its fair share of great jumps.
6. In Fear - An eerie film from across the pond about two young people lost in the woods. The tight shots out the front of the windshield into the pitch black will linger with you for many nights of driving to come.
7. Life After Beth - I may just be prone to love everything that Aubrey Plaza in, but it isn't just the all-around phenomenal casting that makes this goofy zombie movie so much fun. And when they finally go for a hike, it sure is great!
8. Nightcrawler - Jake Gyllenhaal is capital-A acting in this movie and it is unbelievable.
9. The Town That Dreaded Sundown - Though it came and went relatively quietly, this fun reboot of the 1976 film based on a series of murders in a small Southern town did some subtle things to subvert genre tropes that were great to see.
10. Willow Creek - Although I didn't love the ending, the long shot in the tent alone was way too good for this Bobcat Goldthwait film not to make the list.
The Worst
1. Devil's Due - Where to start? Lame female lead with no agency, problematic depiction of "other" on their honeymoon, unnecessary cesarean scene. Just a terrible movie.
2. All Cheerleaders Die - This movie may have been reaching for satire, but missed it completely. The camera-work forced the audience into the position of leering at young women with no sense of awareness or subversion and the story itself made no sense.
3. The Quiet Ones - This title makes no sense whatsoever. Not only does it seem to have no real connection to the actual plot, but this movie get it's only jump scares from throwing painfully loud sounds at the audience for no reason. Wholly unoriginal and boring.