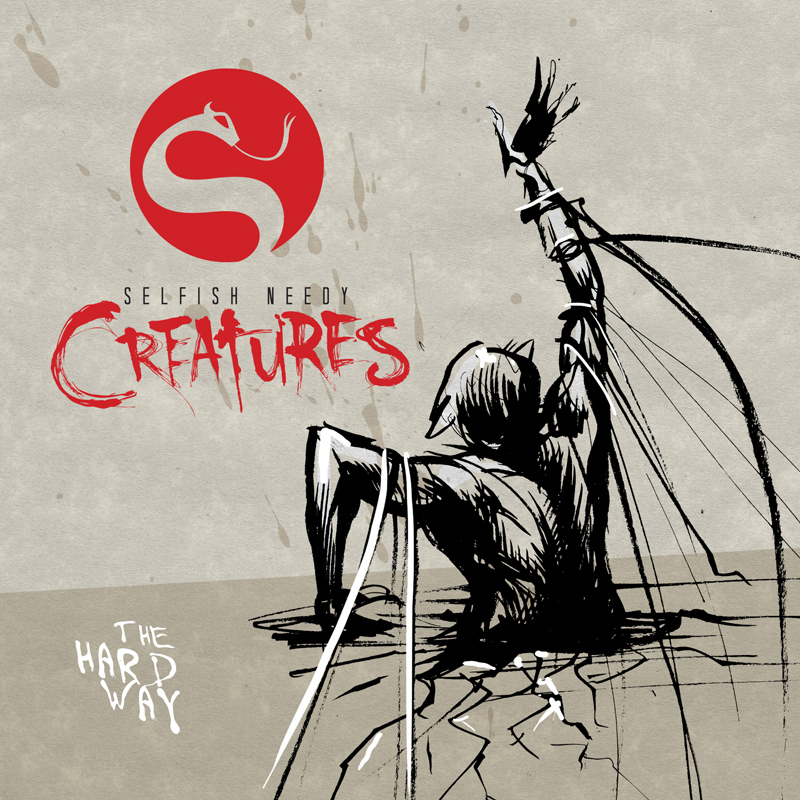 Album Review: Selfish Needy Creatures - "The Hard Way"
Selfish Needy Creatures' "The Hard Way" is an album born in the shadowy, dodgy margins of the road less traveled. The efficient eight-cut record is a straight-forward runaway freight train of reckless abandon and raw, virile authority.
Not at all given to subtlety or restraint, "The Hard Way" is a punishing experience that might as well be the soundtrack to a street fight. Far more focused than the band's previous EP (and it's odd to use the word "focused" in reference to something so unrefined,) "The Hard Way" is a rolling diatribe of high-strung, muscled pulverization.
The lyrical themes here aren't going to make the listener reach for a dictionary, but it's excusable given that the emotional context of the album is firmly buried in simple, bottomless ideas. Love, hate, anger, sex, pain, confusion, pride and violence rule various cuts, which put Selfish Needy Creatures in similar company to songs from Alice in Chains (and their simulacrum, Godsmack.)
With the even hands of Corey Lowery (Stereomud) and Rodney Mills (co-producer, Lynyrd Skynyrd) behind the mixing and mastering, and with Morgan Rose (Sevendust) doing guest vocals, Selfish Needy Creatures got together with some high-caliber talent for the creation of "The Hard Way," and that comes through in the product. The final cut is cleanly produced without being sterile; an appropriate amount of gritty, guttural fuzz finds its way into each track.
One of the album's prominent features is the seamless flow between each and every song. There is very little dead space on "The Hard Way," and as soon the heavy-handed title track ends, the high-octane "I'll Be Damned" picks up the momentum and keeps pushing.
Musically speaking, the album is not given to extended stretches of virtuosity, but what's important is that the rhythm section of Chris Patti and Tommy Q play well in tandem with lead axe man Karl Von Heilman. The three play comfortably well with each other and create a full bore wall of sound. Launching off of that wall is frontman Vegas Nacy, who seems a tireless screamer, bringing the same effort on each track.
The anything-goes attitude helps to foster the feeling of tense, roiling fury that carries the album's better tracks. Both the title cut and "Ever Ready" could crank out of a jukebox during a barroom brawl, while "Full Fury Redemption" sounds like a car accident. And yes, I mean that as a compliment. The other tracks all fall somewhere in that range.
The thing missing from "The Hard Way" that would have been nice to see exhibited would be greater variety. The album is strong as an end to end effort, but really only knows one speed. That's not to say that I'm asking for some kind of manufactured ballad (and those who read this page with any frequency know that I will **never** ask for more ballads,) but a throaty foot-stomper along the lines of Pantera's "Walk" or Devil to Pay's "When All is Said and Done" might have served as a greater juxtaposition between similar cuts, and given the effort a sense of depth.
Selfish Needy Creatures' "The Hard Way" is high on raw musical force and completely devoid of pretension. This is honest work by earnest musicians, and all they ask is that you give them a shot. If you're down for an uncomplicated, full-throttle American bash, or you're looking for a new band as a change of pace, try "The Hard Way." You won't be disappointed.