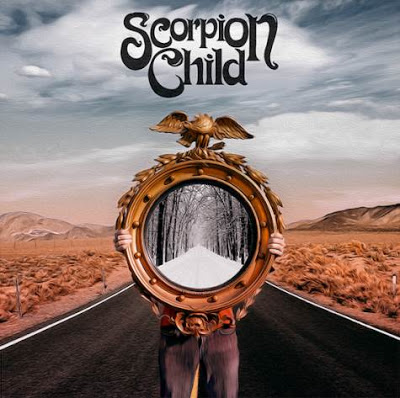 Album Review: Scorpion Child – "Scorpion Child"
It seems like every year there's another Classic Rock revivalist band that attempts to reimagine the sounds of the '70s for a new generation of listeners. Bands like The Sword, Wolfmother, The Answer, Graveyard, and many others have all done a fine job incorporating the sounds of Led Zeppelin and Black Sabbath, but they have survived their own band's debut because they managed to blend in enough of their own identity. With their self-titled debut album due out on June 25th, Austin-based Scorpion Child is hoping to do the same.
Opening with "Kings Highway," one of the first sounds listeners will hear is the wail of lead singer Aryn Jonathan Black fading in. Although "Kings Highway" is by no means the album's feature single, it does an excellent job of highlighting the strengths of Black's vocals. With a blues-based groove for the verses and some powerful energy on the chorus, "Kings Highway" offers Black plenty of opportunities to showcase his soulful and spirited sides.
It's easy to compare Aryn Jonathan Black to Robert Plant on "Scorpion Child" with a harsher, Ronnie James Dio quality most of the time, but this is as much a weakness as it is a strength. In the Classic Rock era, the most successful voices were incredibly distinctive. Listeners knew, and still know, when Robert Plant, Ozzy Osbourne, Freddie Mercury, Steven Tyler, or many other front men from that era were behind the microphone on a track. In Black's case, the fortitude of his vocals is unmistakable, but the identity is not. That is not to say Black's vocals are an imitation of anyone, they're not, but they aren't unique enough for anyone to take notice.
"Scorpion Child" really begins to take off on "Polygon of Eyes." With the line "I live on the mountain" opening the chorus, it will be easy for listeners to draw comparisons to Rainbow's "Man on the Silver Mountain," but the backing instrumentation is actually a lot more aggressive. With a memorable melody and huge riffs, it's no wonder why "Polygon of Eyes" was named the album's first single. "Kings Highway" may be a better showcase for Black, but "Polygon of Eyes" gives listeners an excellent idea of Scorpion Child's true potential as a band. None of the members can be accused of holding the rest back.
Other album highlights include "The Secret Spot" and "Paradigm," two of the fastest paced selections on the entire record. In fact, this band is at its best when every member is pushing the music forward. However, when Scorpion Child chooses to slow things down, as they do on "Antioch" and the album's closing track, "Red Blood (The River Flows)," they lose a bit of their magic. Black's vocals begin to waver when he has to hold a note for a longer period of time and the chemistry between members falls apart as they attempt to tread water, waiting for the melody, but what they lack in strength of ballads, they easily make up for in pure rock.
Scorpion Child has started their career off strongly. Their sound may not stand out as much as some other Classic Rock revivalist bands, but what they do, they do exceptionally well. I would highly encourage any fans of hard rock or earlier heavy metal to give this album a listen from start to finish. You won't be disappointed.