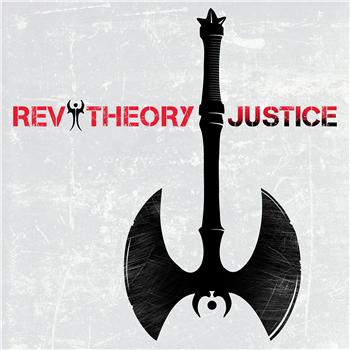 Album Review: Rev Theory - "Justice"
Preconception can be a subtle but influential force on the human psyche. Often, knowledge of past or present environments and decisions can color a person's view of any new situation, person or object he or she encounters.
Rev Theory falls prey to those same preconceptions. Their association with acts like Theory of a Deadman, Hinder and Papa Roach, as well as the band's backing by major labels and promoters Interscope/Geffen/A&M, gives them a reputation, earned or not, that precedes them. It has always been the case that Rev Theory's mainstream exposure on modern rock radio has served to destroy any credibility they may have claimed with a largely underground fanbase like that of metal.
So, it's a worthwhile exercise to try and leave behind those preconceptions and judge new people and new art with an objective, critical eye. Rev Theory's new album, "Justice" must be judged on its own merit.
What we have on our hands with "Justice" is an album that is robust and stocked full of the usual hard rock/metal pomp and circumstance. Not altogether too concerned with deep emotions or macabre themes, "Justice" is a straightforward romp of digestible, catchy rock songs that are high on homage and low on substance.
"Dead in a Grave" begins the album with a throwback Guns 'n' Roses guitar tone and a mock Axl growl to match (or, if you prefer Velvet Revolver, a Weiland growl.) The homage is convincing, but the song is still a little hollow. While that's endemic to rock music on the whole, the high-end spotless production takes away any possible sense of longing or hunger. That said, "Dead in a Grave" is a capable pace car for the rest of the album to follow.
The title track itself is a curious song, as "Justice" denies the album's polished image for a grittier feel. The track comes equipped with a screeching, anguished guitar line as it to emphasize the point. Preconception being what it is, it's difficult to determine if the dirty-faced, teeth-bared feeling in the song is genuine or manufactured, but it's nice to think it might be the real deal.
No matter the authenticity of the album's blood and sweat, "Hangman" is an easy three-chord good time, regardless of its simplicity. Unfortunately, "Fire" comes right after that and couldn't be more different than the Jimi Hendrix classic of the same name. You can get your lighter out for "Fire"…and then use it to light yourself.
Continuing the strange trend in contrasting two song sets, "Remedy" might pass for a tribute to late-era grunge with a quality stuttering bridge, but "Enemy Within" sounds too close to WWE entrance music for comfort (ironically, Rev Theory songs have been used in that capacity before.)
"Wicked Wonderland" might be "Justice's" best song, for the well-layered and sneakily cunning riffs. It's got a consistent downbeat and would fit right in as deliciously sleazy music for a stripper to dance to.
After that though, it finishes on a downhill note. "Say Goodbye" is the kind of mass-produced acoustic guitar ballad that casual rock fans will devour, but music listeners with a discerning taste will openly loathe. "Never Again" is disposable, and "Hollow Man" is a relatively cheap knock-off of the sullen tracks from Stone Temple Pilots' "Purple" album, or Green Day circa 2002.
"Justice," if given the benefit of the doubt, isn't a bad album and is certainly possessed of missteps, but also has some truly entertaining moments. It does, however, have a production candy-coating and a base rock writing style that similar to hard candy makes it nice, but ultimately insubstantial. While I can say that it's not nearly as pedantic as other radio hard rock/metal acts like Nickelback, that's hardly a high hurdle to clear. It certainly won't hurt you to try out "Justice," but I doubt it will leave you awestruck, either.