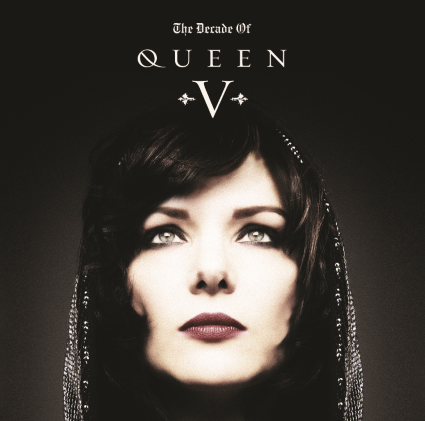 Album Review: Queen V - The Decade Of Queen V
I'm a sucker for a gravel voiced, hard rocking woman. I don't know if it's because of how rarely I come across one that fits the bill, or if it's chemically wired in my brain that way, but there's something about a raspy voiced woman singing good ol' fashioned hard rock that makes me happy. When one comes along, all is right with the world for a little while, and this crazy world of music we inhabit makes sense.
Queen V has been toiling away in the underground for a decade now, an anniversary she marks with this compilation of her more notable songs. Hers is a name I came across years ago, through context I can no longer remember, the only residual remnants of that encounter being the continued existence of her ballad "Cry For A Minute" in my playlist. We'll get to that later.
What Queen V offers up in these songs is a healthy dose of rock and roll, supporting that temptress voice. The opening "Revolution Baby" tells you all you need to know, with it's marching cadence, charging guitars, and a vocal that won't be denied. Cut from the cloth of those late 70's/early 80's rockers who didn't buy into pop influence, Queen V is hard rock through and through. Her guitar playing may not be flashy, but she knows how to fit into a song, and her tone is spot-on for the music.
Being a compilation, you'd expect no drop-offs in quality, and that's exactly what you get. "America" follows up the opener with a little dab of punk influence in the guitar work, and a chorus that soars, thanks to Queen V's lung-stretching vocal. There is a bit of puzzlement brought in by the one new number on the album, "Cry Your Eyes Out", easily the most modern pop-oriented song here. It doesn't move far enough from the beaten path to sound out of place, but it's inclusion here does raise an eyebrow.
"Good Enough", the first of the ballads, shows off a side of Queen V not many other artists try. She takes what should be a lovely, softer song, and delivers moments of throat-shredding intensity, which only serve to make the emotional impact that much stronger than they otherwise would have been. It was that very quality that drew me to "Cry For A Minute" the first time I heard it those several years ago. The blend of melancholy guitars with a vocal that seethes through the surface is captivating, and Queen V knows her instrument so well to perfectly balance how far she pushes her voice without it devolving into a pure scream. These songs more than prove her worth as an artist.
The most interesting songs, for most people, will be the last two, because of the notable guest stars. Tom Morello contributes a guitar solo to "My Machine", while none other than Lemmy lends his pen and his voice to "Wasted". To be honest, their appearances aren't the least bit necessary. If anything, knowing they're coming is a distraction from the songs, which don't need to have extra spice added to the mix. When you've got a song like the catchy as hell "Continental", anything more is window-dressing.
"The Decade Of Queen V" is a nice encapsulation of what Queen V is all about. Listening to these songs, there's enough obvious talent on display that it's a bit confusing how it is she doesn't get more attention for herself. She's certainly got the voice and the songs for stardom.