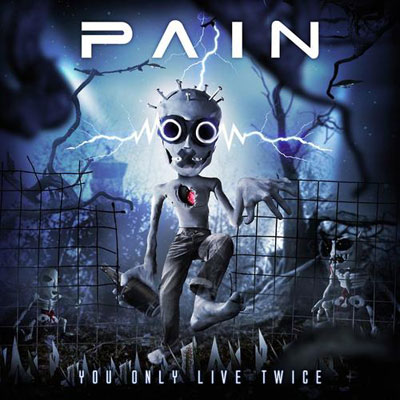 Album Review: PAIN - "You Only Live Twice"
The long running and yet on-again-off-again musical creation known as PAIN has twisted, turned, bent, changed, morphed and changed again over the years. The constant is frontman/guitar player Peter Tägtgren, who remains focused on turning PAIN into a household name. Already a dynamo in his home of Sweden because of his work with Hypocrisy among other acts, Tägtgren has assembled another compendium for this vanity project and released his latest album, "You Only Live Twice."
Right off the bat with the punchy "Let Me Out," and into "Feed the Demon," "You Only Live Twice" combines some of the most popular elements in metal history. The tracks blend together the pacing of "No More Tears" era Ozzy with the arrangement from "Sinister Urge" era Rob Zombie. Those two primary pieces are mixed with a sense of the dramatic borrowed from Dragonforce, and sprinkled with old-fashioned industrial crunch just prior to baking.
As a result of Tägtgren's clearly thorough study of the music around him, "You Only Live Twice" is a study in metal by design. The album clearly contains elements of heavy metal and industrial (natch,) but also the more modern structures of both American and European death metal, as well as power metal, mainstream rock radio and in small select sections, arena-style hair metal. As an academic pursuit, the album is confluence of pieces that studious audiophiles will enjoy dissecting. However, the borrowing and blending of elements leads the album to lack a single defining identity. It feels a little like the album was calculated out on a large dry erase board before recording.
The versatility of "You Only Live Twice," coupled with its smirking sense of humor, is what combine to form the album's greatest strength. For every high-ceilinged choral articulation like "The Great Pretender," there is a counter in the form of barroom fodder such as "Dirty Woman." This latter group of songs has an AC/DC based pop mentality, but dabbles in enough old-school metal breakdowns to keep from feeling too mainstream-engineered.
On the album's back half, there's greater exploration of regional heavy metal tropes. Creative but not overpowering use of a synthesizer, coupled with a double kick chorus creates the sharp edges on "Leave Me Alone," a song that betrays Tägtgren's Swedish roots with quiet verses and blown-out choruses.
Directly thereafter, "Monster" steals pages from the playbooks of Disturbed and other prominent American metallers by alternating between brutal, hammering verses and large, shambling choruses.
"You Only Live Twice" is a deceptively creative effort that is only held back by a (perceived) slight faltering of entirely organic thought. While the album is a fun, fulfilling but not swollen effort, the tenets of its lasting legacy are a little shadier. Still, there's something endemically charming and catchy about it, and that goes for both the harsh industrial/metal pieces and the flightier rock anthems. "You Only Live Twice" is a great choice if you need an album to last you through the summer.