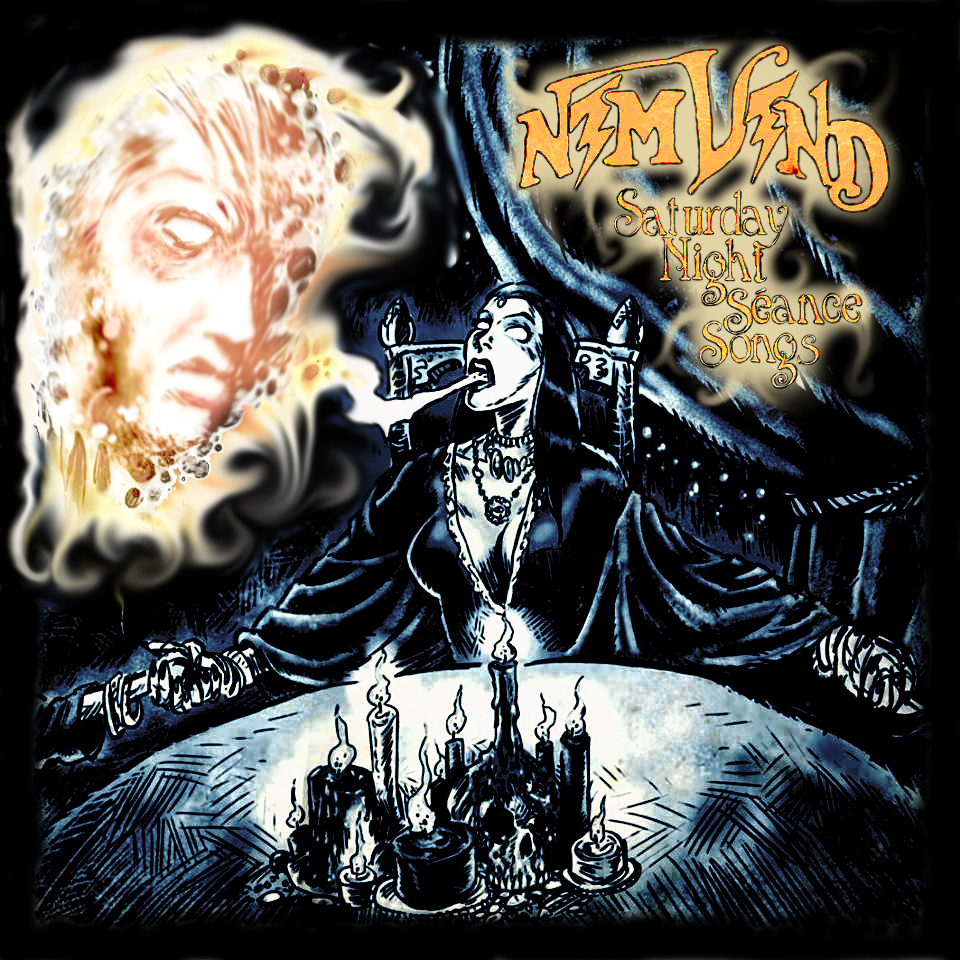 Album Review: Nim Vind - "Saturday Night Seance Songs"
There is a common association between the macabre themes of violence and isolation and the power and uncommon fury of heavy metal. Yet, punk and rock share many of those same ideals, occasionally cloaked in subtler themes. We've seen the near-crooning of Glenn Danzig and the leather emotion of the 69 Eyes. Enter into that mix a new twist on the old theme, Canadian band Nim Vind.
Their debut album "Saturday Night Séance Songs" is a compendium of dark themes wrapped in the slightly sugary charm of days gone by. It's in the same vein as the Misfits, but more like a Gary Cooper, pocket square version of the Misfits, which is a compliment. The music is tightened up, the presentation sharp with clean lines and the music genuinely pleasant to listen to. The band has been labeled as 'horror punk' by the powers that be, but that descriptor fails to tell the whole story.
"Saturday Night Séance Songs" dips occasionally into melodrama, but that's an intentional inclusion – it's part of the total package that Nim Vind wants you to experience. Songs like "That Girl" can dip too far into that pool, but the consensus of songs expertly tread the tongue in cheek line between genuinely threatening and eye-roll inducing.
One of the jewels of the record is "Astronomicon," a song originally written by Nim Vind but then reimagined by Todd Rundgren, the rock super producer whose name resonates second only to Rick Rubin in the appropriate circles. It's a song of sweeping tones and solid rock sensibility, made all the better by the inclusion of horror themes and accents. This, like so many others on the record, is a song of slightly dark longing and foreboding.
Yet for all the hype of that single, the lead-off hitter in this line up of Halloween appropriate material is "ESP," and this is by far and away the best song on this record. The song is entrancing in that unique way of great songs – it captures attention, compels with its melodies and creates a big sing-along chorus complete with hook and the necessary pomp and circumstance. There are a couple moments of this caliber on "Saturday Night Séance Songs," which is all there needs to be; trying to replicate songs that are this complete on the same record is often a fool's errand.
This record isn't a perfect experience, we mentioned at the top that there are songs which fall too far off the table into melodrama and repetition. But by and large, this is a highly enjoyable debut record that takes things at a slightly different speed while still delivering a high quality and impactful listen. It's a fine addition to the soundtrack of your upcoming Halloween party and well worth your time.