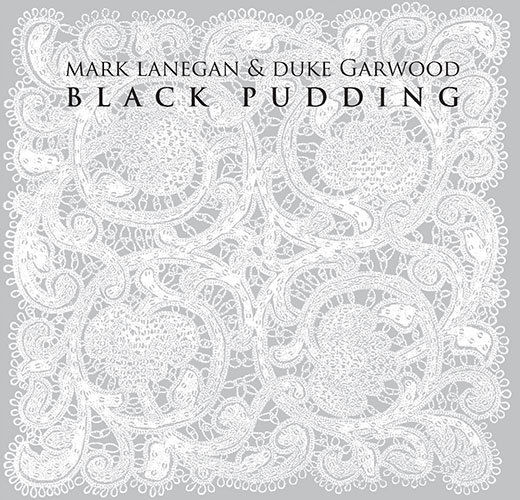 Album Review: Mark Lanegan & Duke Garwood – "Black Pudding"
Mark Lanegan, best known as a founding member of Screaming Trees, was also a member of Queens of the Stone Age for some of their best releases, "Rated R," "Songs for the Deaf," and "Lullabies to Paralyze." Additionally, Lanegan has collaborated with a host of notable artists over the years including Isobel Campbell of Belle and Sebastian, Mad Season, and Melissa Auf der Maur. In short, "Black Pudding" is not Lanegan's first rodeo; he is a seasoned veteran of the trade, always looking to try something new.
In cooking "Black Pudding" is often referred to as "blood pudding" or "blood sausage." Typically made with onions, pork fat, oatmeal, potato or rice, and of course blood, the dish tastes better than it looks or sounds at first and that is exactly how listeners should approach Lanegan's latest collaborative project.
Starting things off with the title track, fans of Lanegan's past work will quickly realize this record is a horse of a completely different color. A dark, completely acoustic instrumental track, "Black Pudding" is an engrossing listening experience. With modern recording and mastering techniques, dynamics have quickly become a thing of the past on most records, but "Black Pudding" brilliantly captures an emotional performance filled with spontaneous yet appropriate volume and tempo changes that add a certain complexity to the otherwise stripped down instrumentation.
It isn't all instrumental, however. Known for his deep, weathered vocals, Lanegan's Tom Waits-like gruffness is a unique compliment to the unaltered resonation of the guitar. "Pentecostal" introduces the lyrical side of "Black Pudding" with a slow, blues-influenced groove courtesy of Duke Garwood. Although any kind of distortion would sound completely out of place on this recording, together, the duo manage to maintain a rough sonic edge, perfectly complementing each other's styles.
Lanegan's voice and Garwood's guitar easily remain the focus of "Black Pudding" throughout the album, but the duo still experiments with the addition of other voices including strings, piano, organ, and even a drum machine. These layers add enough variety to the mix to keep the album's forty-five minutes of music from growing stale, but the pace could still become tiresome for some listeners.
There is a huge difference between appreciation and enjoyment when it comes to music. For fans of Screaming Trees or Queens of the Stone Age, "Black Pudding" will be easy to appreciate for the musicianship and audible chemistry between the pair of artists, but it isn't an easy record to listen to on repeat. Many of Lanegan's past projects are enjoyable for their catchy choruses and fast, rhythmic instrumentation, but songs like "Death Ride" and "Shade of the Sun" are deep, crawling performances that would suit meditation much better than head banging.
Much like Opeth's "Damnation" or Green Carnation's "Acoustic Verses," Mark Lanegan's "Black Pudding" is a departure from most of his past material, but it still holds enough familiar elements to be enjoyed by listeners who typically prefer something heavier.