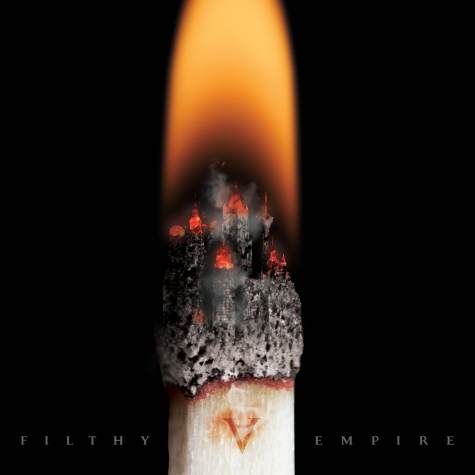 Album Review: Heaven's Basement - "Filthy Empire"
Red Bull has done a phenomenal job of making their name synonymous with "energy" and with Red Bull Records, energy is exactly what listeners receive. Watch five videos of people doing something "extreme" and the odds of one of them using Awolnation's "Sail" as the soundtrack, which was also released by Red Bull Records, are exceptionally high.
With their debut album, "Filthy Empire," Heaven's Basement lives up to the Red Bull name with an energy-packed monster of a record. A dramatic downbeat of every hard rock band's favorite formula, guitar, bass, and drums, punches the ear drums on the opening track, "Welcome Home," leaving just enough room for Aaron Buchanan's gritty scream. Like a shocking blast of cold water after a long night's sleep, Heaven's Basement gets in your face early, waking you up for the wild ride ahead. After a short build-up, the gates are opened and the full vigor of the band is unleashed.
Although he has been with the band for a relatively short period of time, Buchanan impresses almost immediately with his vocal range. He doesn't quite reach the extremes of Steven Tyler or The Darkness' Justin Hawkins, but he belts every note out without falling back on the falsetto register's safety net. His delivery ranges anywhere between gravelly yells to soaring, crystal clear notes depending on the mood of the moment, but even when his voice sounds strained, it does nothing but add to the overall intensity of the music and never falters from its pitch.
Heaven's Basement is at their best when they're blazing forward with modern metal guitar work and an insatiable appetite for kick and snare. Like AC/DC, these hard-hitting verses almost always pile into a monumental sing-along style chorus worthy of any arena. The call and response choruses of both "Fire, Fire" and "The Long Goodbye" beg to be performed in front of a wall of Marshall amplifiers all cranked up to eleven in front of thousands of black t-shirted fans.
It isn't all full speed ahead, however. After seven high-octane numbers that could each easily be released as singles, Heaven's Basement takes a stab at the radio-friendly modern rock track. "Be Somebody" opens up promising enough, but as soon as Chris Rivers starts to pay more attention to his hi-hat than his snare drum, listeners know they could be in for a bumpy road ahead. Similar to singles by Daughtry or, dare I say it, Nickelback, Heaven's Basement applies a thick coat of mainstream to "Be Somebody" in clear hopes of a spot on the charts. Along with their thin and feeble ballad, "The Price We Pay," Heaven's Basement strikes out when it comes to the change-up, but you can't blame them for trying. Don't be surprised if future releases offer nothing slower than the testosterone-fused swagger of "When the Lights Go Out In London."
Quite possibly the most impressive aspect of "Filthy Empire" is the strength of its deep cuts. "Jump Back" and "Executioner's Day" cap off the album with the same explosiveness of "Welcome Home." The guitar intro of "Jump Back" is reminiscent of a faster paced "Rock 'N' Roll Ain't Noise Pollution;" putting Heaven's Basement, once again, in elite company and giving listeners plenty of reason to forget about that whole ballad thing.
If you like high-intensity, arena rock anthems, Heaven's Basement has just the debut album for you. "Filthy Empire" is jam-packed with so many hits that anyone still using a CD player will likely need to dust off their skip button when they finally move on to something else. It might not be heavy enough for many metal fans, but if you still turn up your speakers for "Back in Black," give this album a shot.