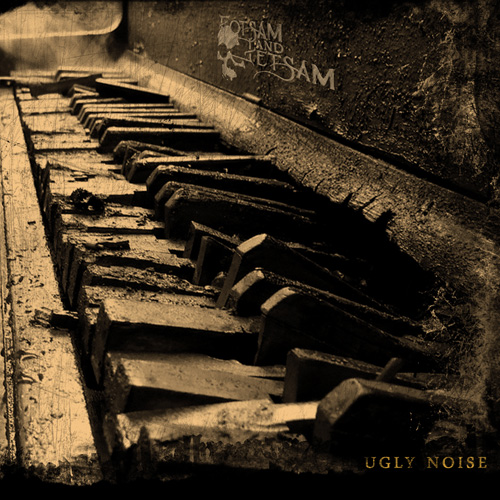 Album Review: Flotsam and Jetsam – "Ugly Noise"
Originally called Dogz, Flotsam and Jetsam are probably best known for being the band Jason Newsted helped start before becoming the bassist for Metallica. After an on again, off again relationship with Metal Blade Records over the years, "Ugly Noise" finds the band, once again, with Metal Blade for their eleventh studio album. What's more exciting for fans of the band, however, is the return of Kelly Smith on drums and Michael Gilbert on guitar. In other words, Flotsam and Jetsam is once again rocking their "Cuatro" lineup.
To fund this new record, Flotsam and Jetsam turned to PledgeMusic, an on-line funding site similar to Kickstarter, but not typically used by bands with nearly thirty years of history. Not surprisingly, their project eventually reached 157% of goal with a total of 779 pledgers donating between $10 and $15 each. With a great deal of praise surrounding their 2010 record, "The Cold," it is puzzling that they would need such a service, but perhaps they wanted to let their fans feel like a part of the whole process.
Cowritten by Jason Newsted himself, the opening track, "Ugly Noise," gives longtime fans of the band a little added treat. The Metallica element is definitely felt during the heavier moments of the track, but intertwining with these points are sections driven by a dark piano line. Eric 'AK' Knutson, the band's vocalist, attempts to bridge the gap between these two dramatically different styles by taking on some rather schizophrenic vocals, switching back and forth between his standard timbre and something similar to that of James LaBrie of Dream Theater. Surprisingly enough, it works and "Ugly Noise" starts the album off strongly, but anyone looking for a complete return to the heaviness of albums like "Cuatro" will need to dig further into this release.
Where "The Cold" was looked at as a major step forward for Flotsam and Jetsam, "Ugly Noise" seems to be turning the clock back to the '90s. This isn't necessarily a bad thing, but it does find the band simplifying much of the instrumentation they had recently evolved. Sure, there are still show off sections, but solos seem so few and far between when compared to their past successes. Back on drums, Kelly Smith does his best to turn a relatively straightforward mix of Hard Rock and Metal into something more explosive, but only succeeds part of the time. "Gitty Up" is one such example. On laid back numbers like "Run and Hide" and "Rabbits Foot" Smith is then forced to play along. Although these tracks might please listeners new to the band, longtime fans will be ultimately disappointed.
There are moments of brilliance, however. "To Be Free," the eleventh of twelve selections on "Ugly Noise," is everything fans were hoping for when it was announced the "Cuatro" gang was getting back together and more. "To Be Free" hits the ground running with some speedy guitar and drum work before developing into a classic '80s style thrash number. Complete with an energetic solo and chorus capable of bringing even the most comatose of listeners to attention, one can only hope fans of 1986's "Doomsday for the Deceiver" make it this far into the album.
If you enjoy a blend of thrash metal and hard rock with occasional nods to industrial music, there will definitely be something on "Ugly Noise" for you, but if Smith and Gilbert's appearance on this record made you cry tears of joy, this might not entirely be the return to form you were hoping for. For many bands with a history as long as Flotsam and Jetsam, living up to your own legacy is often the hardest part and that is definitely the case here.